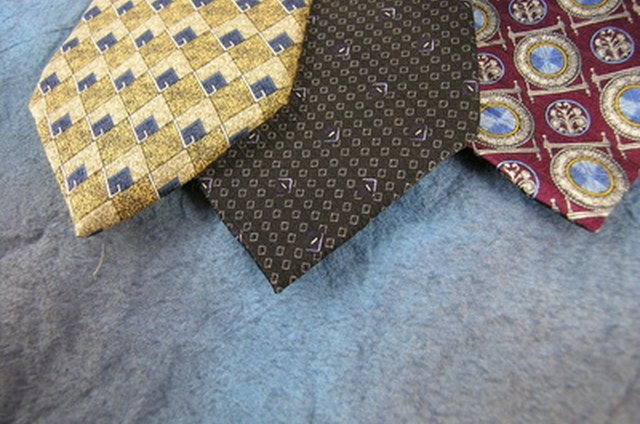 Many men receive ties for their birthday, holidays and anniversaries. That means that most men have more ties than they can ever use. If they shy away from getting rid of old clothes, it is likely that they own several unsightly, out of fashion ties. Seamstresses can put those old ties to use by turning them into a skirt. Because of the slope and shape of most ties and their fine material, they make an excellent base for an a-line skirt.
Measure the size of your hips by wrapping a measuring tape around the fullest part of your hips, where you would like the skirt to fall. This length will determine how many ties you will need to form your skirt.
Determine the desired length for your skirt. Some women prefer longer skirts while others want knee length or mini skirts. Because most ties taper, you will need more ties depending on the length.
Lay the ties so that the bottom of them will be the bottom of your skirt. This will help keep the a-line shape. Arrange the ties in an aesthetic pattern. Placing the ties side-by-side, overlap the entire edge of the ties by 1/8 inch and pin them together.
Use a sewing machine to make a 1/8 inch wide zigzag stitch to sew the overlapped section of the ties together. Begin from the bottom of the tie and sew to your desired length. Continue with the overlapped sections of the other ties.
Wrap the sewn ties around you to determine how many ties you will need to add until you reach your desired measurement.
Determine your desired length by holding the skirt up to your body. With a fabric market, mark each tie one inch above the desired length. Cut off the tops of each tie at the mark. Make a zigzag stitch 1/8 inch below the cut to prevent the fabric from fraying.
Fold the top of the skirt down and hand sew a straight stitch 1/2 inch from the folded edge. This will secure the folded edge to the inside of the skirt and will create a nicer edge at your waistband.
Use the sewing machine to sew a zipper in between two of the ties and sew the rest of the skirt shut.
Tip
Use 100 percent silk ties. If you have none at home, you can find them easily at thrift stores. To make your skirt look more professional, consider using only one color and sheen of ties.