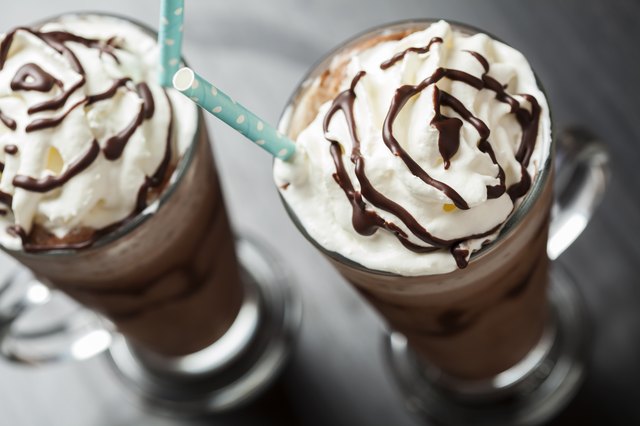 Start to Finish: 5 minutes Servings: 1 Difficulty: Beginner
The mudslide is a milkshake built around the flavors in Irish cream liqueur: cream, chocolate and Irish whiskey. Add a splash of coffee liqueur to round it out and you've got a dessert designed for a hot summer day. Ideally this drink calls for a hurricane glass, but you can serve it in whatever glassware you have, from a martini glass to a beer stein. This recipe is loosely based on the frozen mudslide recipe published on the Kahlua website.
Ingredients
Chocolate syrup

1 cup vanilla ice cream

1 ounce coffee liqueur

1 ounce chocolate liqueur

1 ounce Irish cream

1 ounce whiskey

Whipped cream (optional)
Directions
Chill a hurricane glass in the freezer for 5 to 10 minutes.
Drizzle chocolate syrup inside a hurricane glass. Allow it to run down the sides in stripes, or swirl it to create an abstract design.
Mix the ice cream, coffee and chocolate liqueurs, Irish cream and whiskey in a blender. Mix on medium speed until smooth.
Pour the blended mixture into the glass. Top with whipped cream and garnish with a swirl of chocolate syrup, if desired.
Tips
Substitute spiced or black rum for whiskey to add a spicy note to your mudslide.
Use chocolate or espresso-flavored ice cream for a mocha mudslide.
Warnings
Always drink responsibly.
References