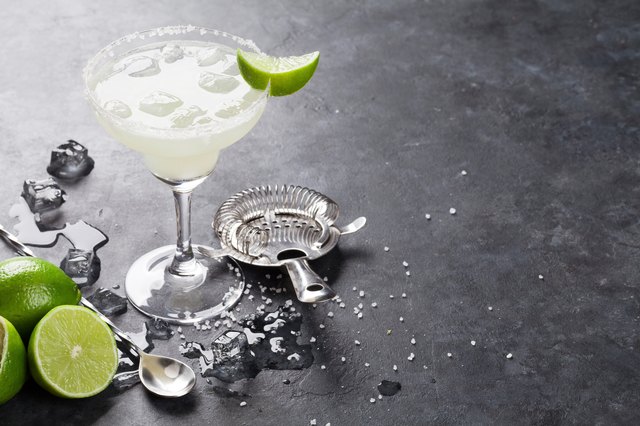 Start to Finish: 15 minutes
Servings: 4
Difficulty: Beginner
The basic margarita uses tequila and a lime-based syrup to give it its flavor. A wine-based margarita adds extra depth and masks the taste of tequila, which may be ideal for people who are not fond of the taste. The fruitier the white wine used, such as pinot grigio or gewurztraminer, the better suited it is for a wine margarita. This recipe is adapted from ones by Saveur for a sangria margarita and a basic margarita.
5 ounces water

5 ounces white sugar

4 ounces tequila

4 ounces orange juice

4 ounces white wine

4 ounces triple sec

10 ounces fresh lime juice

Ice

Salt

Lime wedge

4 strips orange rind
Heat the sugar and water in a small saucepan on medium heat. Stir until the sugar has dissolved, remove the saucepan from the heat and let the water cool to room temperature.
Rub the rims of four rocks glasses with the lime wedge. Dip them into a plate of salt, crusting the rims. Fill each glass halfway with ice.
Combine the tequila, orange juice, wine, triple sec and lime juice in a cocktail shaker. Fill half the shaker with ice, cover it and shake vigorously. Shake until the exterior of the shaker has turned frosty.
Using a strainer, pour the blended margarita into the rocks glasses. Hold one orange rind over one glass, twist, spraying the surface with oils from the rind, and drop the rind into the glass. Repeat this step for all rinds and glasses. Serve the drinks immediately.
The recipe can be made with red wine instead. Choose a fruity red wine, such as Beaujolais or Valpolicella.
Leave out the orange juice to more closely approximate the flavor of a traditional margarita.
Add 2 ounces of pineapple juice and 2 ounces of red or white grapefruit juice -- depending on whether you are using red or white wine -- to make a sangria margarita. Garnish the drink with pieces of cut apple, pineapple and orange instead of the orange twist.
For a blended margarita with wine, combine the ingredients in a blender, along with 1 1/2 cups of ice. Blend until all of the ice is pureed, and pour the margarita into prepared rocks glasses. Do not add extra ice.
To make a fruit-flavored margarita with wine, add fruit nectar for a margarita served over ice, or pieces of frozen fruit, for a blended margarita. For example, add 4 ounces of peach nectar and replace the triple sec with peach schnapps for a peach margarita with wine. For a blended peach margarita with wine, use frozen peach slices instead of the 1 1/2 cups of ice, and replace the triple sec with peach schnapps.
Pair your fruit choices with the type of wine you are using. Dark-colored fruits, such as berries, are better matched with red wines, while lighter fruits, such as peaches and pears, work better with white wine.