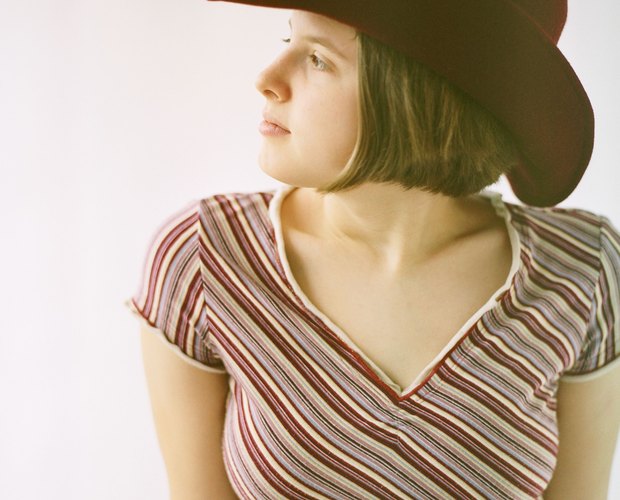 Jupiterimages/Photos.com/Getty Images
Take a T-shirt or other cotton shirt with a high collar and spice it up by giving it a low-cut, V-shaped neckline. A cotton shirt or similarly tight-knit material will hold up when cut and won't fray like a softer, looser fabric. By cutting the neckline yourself, you decide exactly how low you want it to be. Find the materials you need in a craft store or sewing supply store.
Cut the existing collar off of the shirt that you want to change to a low-cut shirt. Make sure the cut is even all the way around -- just beyond the seam of the existing collar.
Put the shirt on and decide how low you want the new collar to go by placing your finger in the middle of the cut collar and bringing it down to the desired length. With the sewing chalk, dot the spot where you want the lowest part of the collar.
Place the shirt in front of you, front-side-up and smooth it out flat with the sleeves out to the sides. Place the edge of your measuring tape at the top side edge of the cut collar, down to the mark you made with the sewing chalk. Trace along the edge with the chalk and repeat on the other side of the collar to form a "V."
Cut along the "V" carefully with scissors and discard the fabric you cut away.