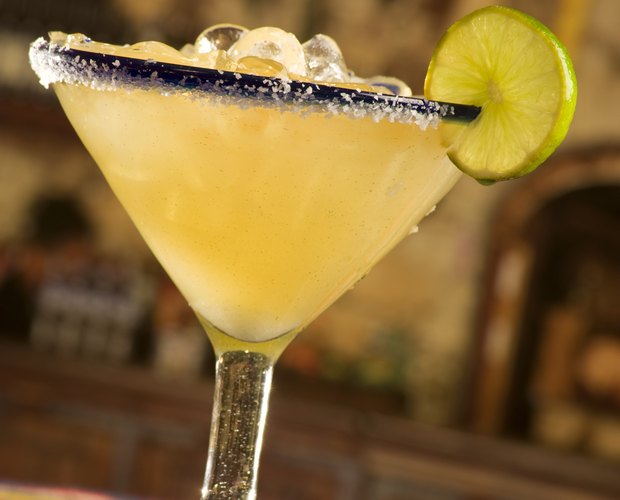 Westley Isbutt/iStock/Getty Images
Start to Finish: 5 minutes Servings: 1 Difficulty Level: Beginner
Just as the name Cadillac originally denoted the ultimate in American luxury cars, its namesake cocktail takes the humble Mexican margarita to a new level. Use top-shelf liquor and fresh ingredients to upgrade your cocktail ride.
Ingredients
1/2 cup kosher salt
1 lime wedge
2 ounces reposado or other high-quality 100-percent agave tequila
1 ounce fresh-squeezed lime juice
1 ounce Grand Marnier or Cointreau liqueur
1/2 cup crushed ice
lime slice, slit on one side
Prepare the Glass
Salting the rim of the glass adds a tasty counterpoint note to the sweetness of the Cadillac margarita. Although some bartenders dip the entire glass, opening down, straight into the salt, keeping the salt only on the outside of the rim ensures that you don't end up with a salty drink.
Pour the salt into a saucer and give it a shake so it flattens out and isn't a mound.
Rub the lime wedge around the rim of a stemmed margarita or martini glass.
Turn the glass on its side and roll the rim in the salt. Prepare your glasses in advance if you are planning on making several margaritas.
Shake Up and Serve
In a chilled cocktail shaker, combine tequila, lime juice, liqueur and ice. Shake vigorously until the ingredients are blended and you can feel that the shaker is very cold.
Slip the slit in the lime slice over the edge of the glass and serve the drink straight up. Alternately, salt the rim of a highball glass and serve the Cadillac on the rocks. Umbrellas, swizzle sticks and straws are optional.
Blend, Blend
Refresh yourself on a hot summer day with an icy blended Cadillac margarita. Increase crushed ice to 1 cup, throw everything in the blender and hit the button. Added ice creates more volume, so use a bigger glass or pile it high like a margarita sundae.
Tips, Tricks and Accompaniments
Use high-grade tequila to fuel your Cadillac. Reposado 100-percent agave tequila is so named because it has been aged and "rested" in wooden barrels. White un-aged agave tequila also works but the flavors are not so complex.

Polish up your Caddy with Grand Marnier or Cointreau. Grand Marnier is a cognac-based liqueur while Cointreau has a sugar beet alcohol base. Ordinary margaritas use triple sec; the top-shelf liqueurs are what make them Cadillacs.

Use only fresh-squeezed lime juice, preferably from Mexican yellow limes or key limes. They're smaller and harder to juice but have much more flavor than the average supermarket variety.

Serve your Cadillac with homemade tortilla chips. Cut corn tortillas into sixths, fry them in vegetable oil, drain them on brown paper and salt generously. Serve with salsa or whip up some easy guacamole by mashing an avocado with a bit of salsa.