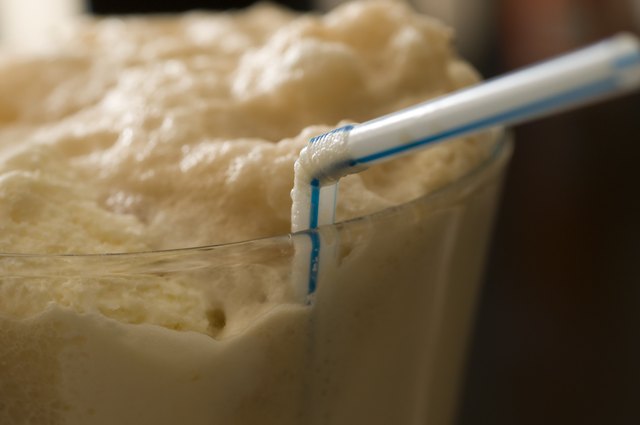 Jesse Kunerth/Hemera/Getty Images
A black cow, sometimes called a brown cow, was originally a soda shop drink. Just as the name changes regionally, so do the ingredients. All of the variations of this refreshing beverage include carbonation and dairy. You'll even find cocktail versions that contain alcohol.
Soda Shop Favorite
In a tall glass, place a scoop or two of vanilla ice cream. Slowly pour root beer over it to fill the glass, add a straw and spoon and enjoy. One variation uses cola for the carbonation, and other versions add chocolate syrup, different flavors of ice cream, or whipped cream and a cherry on top. Personal preference is the key, so make it your way.
Cocktail Variation
Mix a black cow with a kick by pouring 1 ounce of bourbon into a tall glass, then pour cola or root beer to fill the glass about 3/4 full. Pour in milk to fill the glass and stir well. Two percent or whole milk makes the drink smooth and creamy. For another version, mix Kahlua or another coffee liqueur, half-and-half and cola in a 2:2:3 ratio, or add more cola to taste.