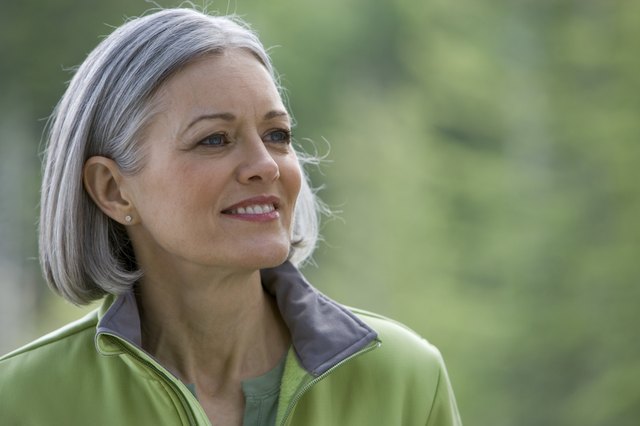 Noel Hendrickson/Photodisc/Getty Images
Lowlighting hair is very similar to highlighting. Instead of lightening the hair color like hairstylists do with highlighting, lowlighting darkens the hair by two color shades. Hairstylists often use lowlighting to better blend the highlights with the natural hair color. It's recommended that you lowlight your hair every third visit to the hairstylist. In many cases, hairstylists don't offer lowlights, so you will need to ask expressly for the color treatment.
Put on gloves before you deal with the dye. It can stain your hands for several days.
Blend the dye ingredients together. If your hair is a dark grey, consider buying a dye that is jet black. If your hair is a light grey, purchase a dye that's steel grey. These colors will add depth to your original grey color.
Apply the dye to the hair in strips. Start with the root and work your way to the end of the hair. Begin with the back and work your way forward. The width of the strips should be as thick as you want them to be.
Leave in for as long as the dye manufacturer specifies. Wash the dye out. Don't use shampoo and conditioner after the dye. Style with a hair dryer or let dry naturally.