As fashion trends come and go, some statement pieces and accessories are best bought as costume jewelry to avoid investing in a style that may ultimately be a fad rather than a lasting, classic staple. Don't fear buying cheap items or knockoffs out of concern for the appearance of green marks on your skin or discoloration of the fashion jewelry itself. Both are easily prevented by proper care and storage so your skin can remain green-free and the life of each item can be extended.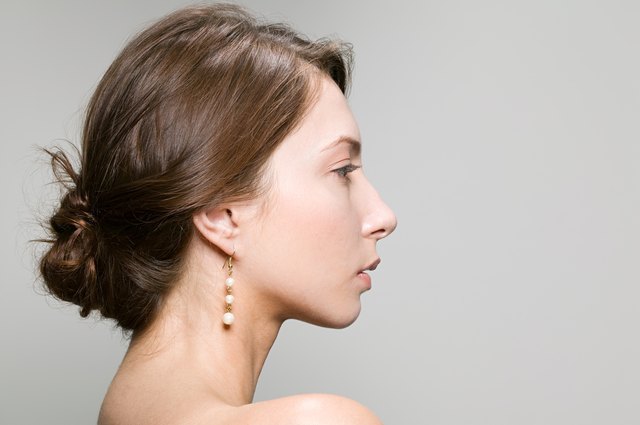 What's With the Green?
Fake jewelry often discolors due to exposure to oxygen. Air and other particles in the air cause a chemical reaction which results in the discoloration of the jewelry. Moisture from swimming or showering with costume jewelry on can also sully the color by forming dark circles on the surface like a watermark or stain.
Skin becomes discolored or turns green when the jewelry reacts with the skin or products on the skin such as perfume or lotion. Acid released with sweat is another culprit for skin discoloration. These acids often cause copper jewelry to corrode, which yields copper salts. These salt compounds leave the greenish hue behind on skin.
Care for Costume Jewelry Properly
To prevent the discoloration of both jewelry and skin, clean and maintain accessories by washing regularly with a mild solution of warm water and a pH-balanced soap. Harsh cleansers like ammonia, bleach or rubbing alcohol can strip the finish off costume jewelry or cause it to rust due to oxidation. This, in turn, makes jewelry even more susceptible to dents and dings. To clean fake stones, simply swipe the surface with a soft, clean cloth or paper towel and some glass cleaner. Completely dry the jewelry before storing by using a microfiber cloth to avoid snagging any stone, bracket or clasp.
The green skin discoloration on wrists, fingers and ears can be prevented by applying clear nail polish to the insides of rings, bracelets or earrings. The polish acts as a sealant without tarnishing the appearance of the outside of the jewelry, including both the metal, bands and stones. Do not use lacquer or other products to seal or refinish statement accessories.
Such pieces are not intended for everyday use. Limit wear and always clean afterward to add years to the life of accessories. Remove fashion jewelry before undressing to limit accidental snags. Try to steer away from contact with lotions, perfumes or hand soaps and other finishing products like hairspray while wearing costume jewelry. This will prevent the exterior of the jewelry from developing a discoloring smudginess or an unappealing finish.
Store Pieces Correctly
For added protection, line each section of a padded, sectioned jewelry box or other storage container with anti-tarnish paper. Along with creating a proper storage environment – which should keep fake jewelry from oxidizing due to air exposure or fading in the sunlight – anti-tarnish paper will also preserve the color of costume jewelry.