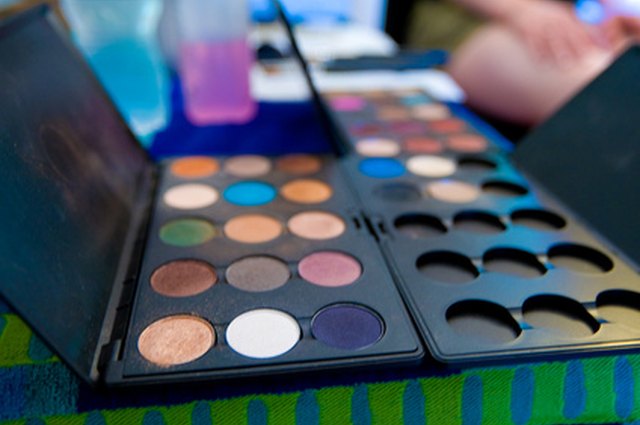 If you are looking for a way to earn some extra money and you have a passion for makeup, hosting a makeup party can kill two birds with one stone. Every makeup company has their own model of running these parties, but the general idea is that the host is provided with makeup to sell to her friends, while at the same time gaining free products for herself. Whether or not you have an outgoing personality, a makeup party can be a fun way to bond with your friends.
Research makeup brands to see which one you are most interested in featuring at your party. Some factors to consider are which products you like the best, which company offers the highest percentage of profits to the hostess and which other perks you can gain. Eliminate any brands that make you purchase their products in order to sell them. Stream Cosmetics and Mary Kay Cosmetics are two companies that offer makeup parties.
Contact the company of your choice and order the supplies for your party. Most companies will guide you through the process with a party consultant, so you will be prepared when your big night arrives. For a Mary Kay party, visit marykay.com and click on "Host a Party". For Stream Cosmetics, visit streamcosmetics.com and choose "Host a Party". Both of these websites will then walk you through what to do next. If you are interested in a different company, visit their website and look for a similar option or choose the "Contact Us" tab that most websites offer.
Invite friends and relatives who are interested in makeup and who want to have a good time.
Set up the makeup in an appealing way by spreading a tablecloth underneath and adding flowers and decorations to the table.
Set up chairs for your guests facing the display table of makeup.
Greet guests and guide them to their seats. You can offer drinks and refreshments if you would like, but this will cost you some money.
Present your supplies by showing the guests which products you are offering and what they do. You can demonstrate on yourself or on a volunteer. Some companies, such as Stream Cosmetics, will send a representative to demonstrate the products.
Allow your guests to browse through the products to see which ones they like.
Collect the money for the products you sell and send it back to the company, along with the extra products, as per the specific instructions of the brand you are working with.
Collect your percentage of the profits, along with other perks such as free or discounted makeup, from the company you sold for.
Tip
When deciding which group of friends to invite to the party, choose ones with the highest amount of disposable income because they are the most likely to purchase large quantities of makeup at your party.