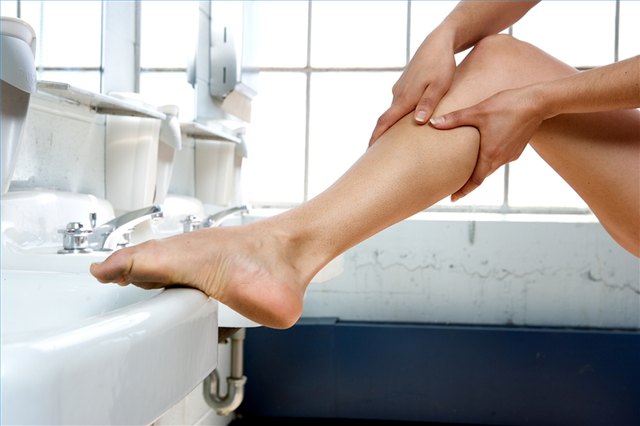 How to Hide Spider Veins. If you stay away from certain items of clothing because you don't want people to know you have spider veins, take heart. There are a lot of tricks you can use to hide spider veins without being obvious. There are also a lot of fashion choices for those who have noticeable spider veins and need a quick, painless solution that fits into their everyday schedules.
Use special leg makeup or buy face makeup that is thick and long lasting. Special concealing foundation makeup sold to hide skin problems can be particularly helpful, especially if you need to hide large spider veins or you have a large number of them. This type of coverup, which can usually be found in specialty makeup stores, should be mixed with body lotion for better absorption and a more natural look.
Wear long skirts to hide spider veins that are only present in the thighs or above the knee. Skirts that are form-fitting and stay in place no matter how much you move are the best option. Don't discount shorter skirts, though, especially if you can pair them with stockings or high boots.
Use special compression stockings. These types of stockings not only hide spider veins, but they also minimize them if used regularly. Your stockings should be in a color that matches your skin tone, unless your spider veins are extremely noticeable. In this case, you should opt for stockings in black or very dark tan.
Wear pants, trousers or jeans whenever you can. This is one of the easiest ways to hide your legs and still remain in style. In summer, wearing mid-calf pants, or capris, is another great option.
Get a spray-on tan in the summer. It looks natural, and you can adjust the intensity to make sure you hide spider veins and skin imperfections. Tanning gels and creams at home may also work, but professional spray tans usually look more even and offer better coverup.
Use sarongs or similar coverings to hide spider veins while at the beach. Colorful sarongs are perfect for minimizing the look of spider veins, but are still sheer enough to allow sun to get through for a healthy tan.
Tip
Choose makeup cover-up that matches your real skin tone, which can vary depending on the season. Otherwise, it will be obvious that you are wearing something only on your legs. While specialty stockings are your best bet, you can also use regular stockings for a quick fix.