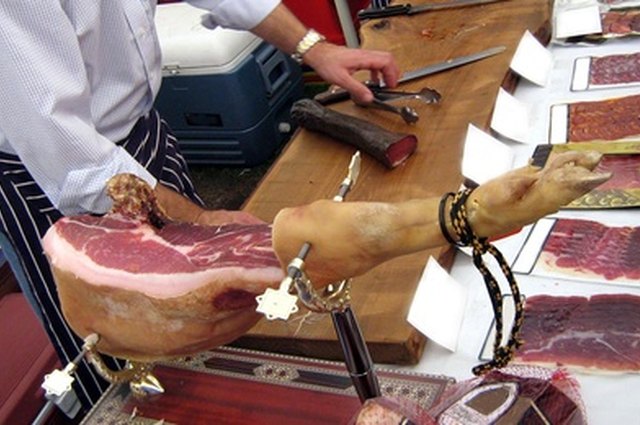 carving pork meat. meat in the market.smoked pork image by L. Shat from Fotolia.com
If you're looking for an elegant yet healthy meal to serve to your guests or family, you can't go wrong with pork tenderloin. This lean cut of pork can be made in a wide variety of ways, and goes well with many different side dishes. Since pork tenderloin is a lean cut of pork, it can get dry and tough easily when grilling, which is why it's a good idea to brine your pork before grilling. Season the pork in whatever flavors you would like to impart on the pork.
Fill a large plastic container with 4 to 5 cups of cold water. Dissolve 3 tbsp. of kosher salt and 1 cup of sugar into the water. Put the tenderloin in the mixture and put a lid on top of the container. Place in the refrigerator for one to two hours. Turn the tenderloins in the mixture halfway through the brining time.
Remove the tenderloins from the brine and place on a clean cutting board. Pat dry with a paper towel. Brush the tenderloins with olive oil using a pastry brush.
Combine the rub ingredients in a small bowl. You can make a rub using any kind of seasonings you want. For a basic barbecue dry rub, combine the following ingredients: 4 tbsp. sweet paprika, 4 tbsp. kosher salt, 2 tbsp. ground cumin, 2 tbsp. dark brown sugar, 2 tbsp. chili powder, 1 tbsp. granulated sugar, 1 tbsp. ground black pepper, 1 tbsp. ground white pepper, 1 tbsp. dried oregano, 1 tbsp. cayenne pepper. Rub generously on the pork tenderloin.
Brush the gas grill grates with vegetable oil with a pastry brush. Turn the grill on high for 10 to 15 minutes with the lid closed. After 15 minutes scrape the grill grates with a grill brush and reduce the temperature to a medium-high heat.
Place the tenderloins on the grill and grill for about three minutes on each side. Check the temperature of the pork with a meat thermometer. Remove from heat when the temperature reaches between 145 to 150 Fahrenheit.
Cover with aluminum foil and leave to rest for about five to 10 minutes. The heat will continue to rise a bit when the meat is resting so you don't want to leave it out or it will begin to dry out. Slice and serve hot.
Tip
If you are concerned about the tenderloin drying out too fast over direct heat, turn the front burners on high and place the tenderloin on the back of the grill. Close the lid. The tenderloin will cook slower from the indirect heat.