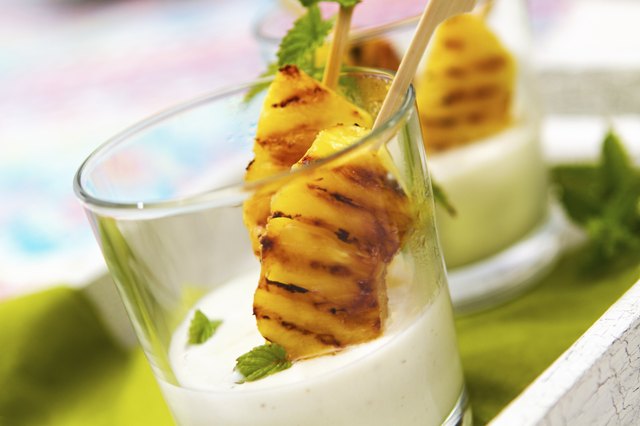 PapadoXX-Fotografie/iStock/Getty Images
Owning a George Foreman grill begs the question, "What can I grill on it today?" Fruits are a tasty departure from the standard red meat, and pineapple may top your list for a tasty, low-calorie treat. When you pop pineapple on the Foreman grill, expect a stark culinary contrast from the raw or canned pineapple you might be accustomed to.
Preparing the Pineapple
Fresh pineapple tastes best, but canned rings or large chunks or frozen pineapple chunks will do nicely, too. Cut a fresh pineapple into rings around 3/4 inches thick. Alternatively, cut the pineapple into chunks of 1 inch or less, making each chunk about the same size. Thaw frozen pineapple, making sure it doesn't remain on the counter for more than an hour without refrigerating. Canned pineapple slices should be kept together in twos so that they are thick enough for grilling. Refrigerate the juice for another use.
Creative Tricks
Pineapple can be grilled old-school, straight off the core, but creativity calls for jazzing it up. Make a basic dry rub with brown sugar, a pinch of salt and your favorite spices, such as cayenne pepper, cinnamon or cloves. Vigorously rub the mixture into the pineapple, covering all sides. A marinade can be made by mixing wet and dry ingredients. Begin with one or more of the following:
Olive oil
Melted butter
Lime juice
Soy sauce
Orange liqueur
Rum
Honey
Add one or more dry ingredients such as citrus rind, pepper, pumpkin pie spice, sugar or coconut. Mix and place in a shallow dish, just covering the pineapple. Refrigerate for one to two hours, turning the pineapple once.
Get Cooking
Preheat the George Foreman grill. Place the pineapple slices or chunks on the grill, not touching each other; close the top and check them in 3 minutes. You're looking for softened, caramelized pineapple with pronounced grill marks. Keep checking every minute until they're done, and remove them with the plastic spatula provided. The pineapple shouldn't stick or leave a messy surface to clean.
Grilled Pineapple Uses
Grilled pineapple is delicious by itself, but it's often used to accompany other foods. Top a steak, Hawaiian burger or boneless chicken breast with a slice. Toss chunks into a Chinese mixed dish or use it to circle a serving of jerk chicken. As a snack, serve it with a cup of dipping yogurt. As dessert, serve it warm with a scoop of vanilla ice cream. For a decadent meal finale, serve chunked pineapple in a glass alternating with cubed pound cake and fresh, sweetened cream.