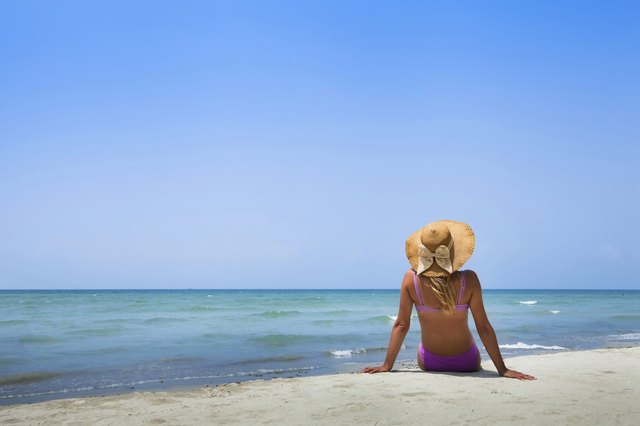 anyaberkut/iStock/Getty Images
You'd rather not show off a farmer's tan in your bikini or strappy tan lines in an evening gown, but getting them to fade back into your normal skin tone is not easy. Tanning more isn't only potentially damaging to your skin, it's a lost cause -- your tanned parts will only deepen in color and you could potentially burn the regions not yet exposed, creating all sorts of new stripes. Makeup and self tanner helps you even out your coloring temporarily. Apply it carefully, though; you don't want to end up streakier or with stains on your clothing.
Self Tanner
Petra Guglielmetti of "Glamour" magazine recommends using a gradual self tanning cream, if you have a few days, to even out your lines. These products tend to create the most natural look and leave less room for error. If you must get rid of tan lines pronto, scrub your skin with an exfoliating wash and allow yourself to dry completely -- at least 10 minutes, if not longer. If your tan lines are light, the exfoliation alone may even out your skin tone. If you still need correction, apply a fast-acting tanner to your lighter skin, and use a foam makeup applicator to apply the tanner carefully at the actual point of the tan lines. You may need assistance to apply the tanner to cover bathing suit strap lines that cross your back. Allow the tanner to dry and darken; repeat the application several times to bring it up to a color close to your tanned skin. Wash your hands completely and thoroughly after application.
Makeup and Bronzer
Foundation made for your face won't do the trick when it comes to covering tan lines on your body. Opt for a shade that will blend into your tanned skin. A foundation brush gives you the smoothest application and helps you blend the makeup evenly. Paint the foundation onto the lines and top it with a bronzing powder designed for your body. The sheen will help mask any subtle changes in coloration. Allow the makeup to dry completely before putting on clothing, and take extra care dressing to prevent staining.