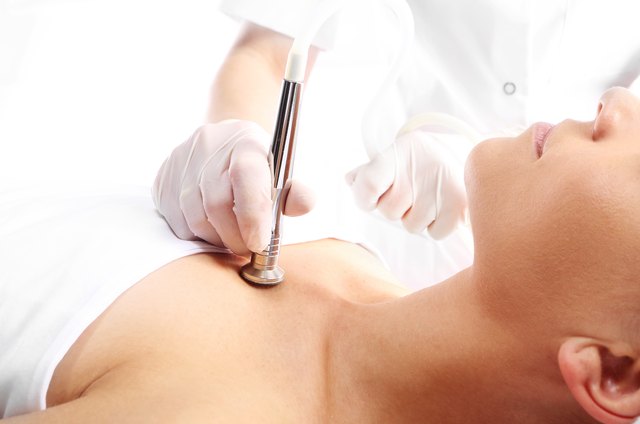 Dark spots on the body due to acne scars, age spots, burns, or blemishes can be lightened to achieve a flawless complexion. It may take months to accomplish through the use of over the counter Retinol creams or cocoa butter lotions. Fading dark spots can be achieved through microdermabrasion visits from a facial specialist at a spa. Faster results can be achieved through procedures done by a dermatologist. Whichever product or procedure you choose, you can achieve an improved complexion.
Contact your dermatologist if you would like to receive a chemical peel, a procedure where a chemical solution is applied to the skin that causes several layers of skin to peel off. The chemical peel will reveal new skin that will be smoother, clearer and with fewer visible dark spots.
Schedule an appointment at your local spa to have a facial with microdermabrasion, a skin resurfacing treatment that removes the top layer of skin, leaving it looking younger, healthier and with fewer visible dark spots. The treatments require several visits for the results to be effective and can take as many as 12 sessions to achieve results.
Apply bleaching cream or fade cream directly on the dark spots you want to remove, according to the product directions. Purchase these at a drug store or grocery store. Check the skin care aisle for different products. It will take several months to achieve results, but the creams are effective in fading dark spots.
Apply Retinol cream to the skin, following the product directions. This cream can be purchased over the counter, or a stronger dosage can be prescribed by a dermatologist. This cream helps minimize enlarged pores, as well as lighten age spots and dark marks on the face or body.
Rub cocoa butter on your dark spots. It helps reduce the appearance of marks and blemishes.There are several brands available at drug and grocery stores.
References