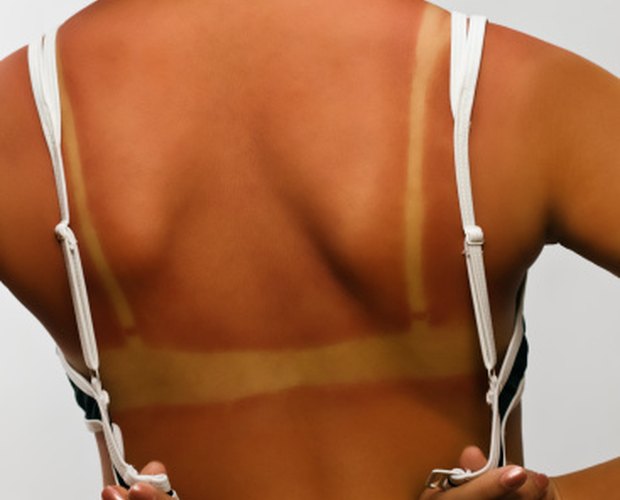 Ralf Nau/Lifesize/Getty Images
The sun's ultraviolet rays stop for no one. If you've been out in the sun without adequate protection, your skin will probably display the telltale evidence in the form of a tan. Some people crave a bronzed look, but if you prefer to be pale, or if you have unfortunate tan lines, there are steps you can take to help the color disappear faster and to ensure you don't unwittingly get another tan.
Prevent any additional sun damage from occurring by protecting your skin. Dermatologists recommend that sunscreen with an SPF (sun protection factor) of at least 15 be worn daily. Do not skimp on product. To adequately protect your skin, you should use about one ounce of sunscreen, about the amount that would fit in a shot glass. For additional protection, wear longer-sleeved shirts, long pants and a wide-brimmed hat to shade your face.
Avoid spending any unnecessary time in the sun during the peak sun damage hours -- from 10:00 am to 4:00 pm in most temperate regions. If you must go outside, cover up as much as possible and re-apply sunscreen every two hours.
Exfoliate daily while you shower. You can use a commercially prepared body scrub for this, or make your own using a mixture of sugar and olive oil. Scrub your body evenly and rinse thoroughly. Be careful not to slip in the shower, as olive oil can make the tub very slippery.
Apply fresh lemon juice to your body. You may wish do this in your bathtub or shower to avoid making a mess. Cut a lemon in half and use it to apply the juice evenly to your skin, squeezing the lemon and massaging the juice into your skin as you go.
Crush some raw potato (one should suffice) in the blender, add the juice of one lemon, and apply the mixture to the affected parts of your body like a facial mask. Let it dry for about 20 minutes, then rinse thoroughly in the shower.
Tip
Your skin cells are constantly replacing themselves, so your tan will vanish naturally within a few weeks.
Warning
Do not apply lemon juice to your skin more often than once daily, as the high level of acidity can damage your skin.