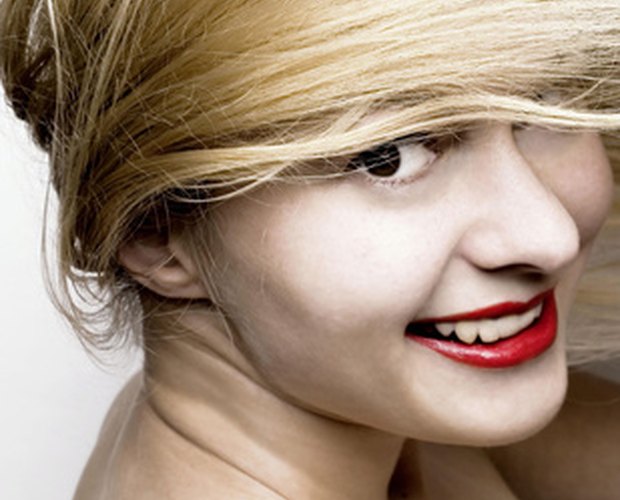 Smiling blonde. image by Monika 3 Steps Ahead from Fotolia.com
Magic Silver White was a hair toning rinse sold in Australia and New Zealand in the 1980s and 90s, but production was discontinued. DHS Marketing of Australia sells Brilliant Silver White, a product that performs the same as Magic Silver White, reducing brassy or yellow tones in blond and gray hair. Using too much Brilliant Silver White in one application can turn hair purple. Fortunately, removing this temporary toner is a simple process.
Wet your hair and lather with your usual shampoo. If you rinsed your hair with Brilliant Silver White just minutes before and don't like the results, you don't have to wait to wash it out. Brilliant Silver White should shampoo out even if you've left the toner in your hair for several days.
Rinse your hair and check the results. If you still see tinges of purple or any other evidence of the toner, lather and rinse again. This should completely remove Brilliant Silver White from your hair.
Finish your usual shampooing regimen. If you wish to apply a different concentration of Brilliant Silver White, however, you don't need to wait. Mix fewer drops than you previously used in a cup of water and apply to your hair without rinsing afterward. If you're satisfied with the effect, dry and style your hair as usual. The toner will wash out when you next shampoo your hair.
Warning
The makers of Brilliant Silver White include this warning in their product listing: "Brilliant Silver White is not recommended for use on black hair as the amount needed may cause staining of clothing."