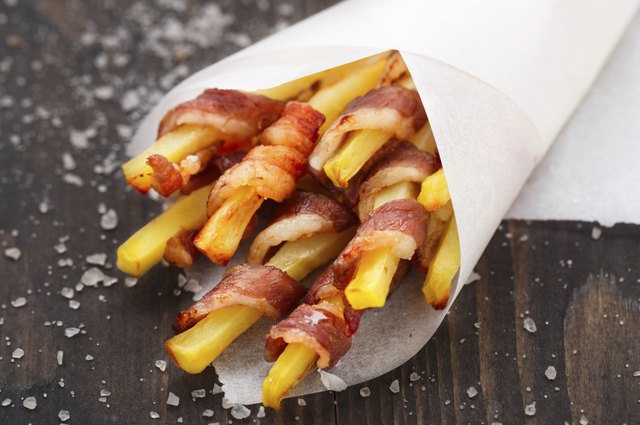 VankaD/iStock/Getty Images
Parchment-paper cones give french fries a simple, yet elegant, presentation commonly used in high-end bistros. Parchment paper goes through a silicone-infusion process during production that allows it to withstand temperatures of up to 400 degrees Fahrenheit and resist oil saturation, making it a smart choice for fried foods. Forming the paper into a cone allows it to hold potato chips and french fries.
Position a 12- by 12-inch sheet of parchment paper on the work surface.
Bring the bottom right corner of the paper to the upper left corner.
Press the fold to form a seam. Cut the parchment paper in half along the seam to form two triangles. Set one triangle aside.
Position the paper triangle with the point directed away from you and the base in front of you.
Bring the bottom right corner of the paper to the apex of the triangle and hold it in place. The bottom right corner and the apex will form a cone.
Wrap the bottom left corner of the triangle around the cone formed by the apex and bottom right corner 1 1/2 times. The cone will have two layers of paper. Hold the cone in place with your fingers.
Fold 3 inches from the top of the cone down into the cone. The fold secures the cone.
Tip
If you need a larger or smaller cone, cut the parchment paper into a square of the appropriate size. The same type of cone can be used for piping frostings.