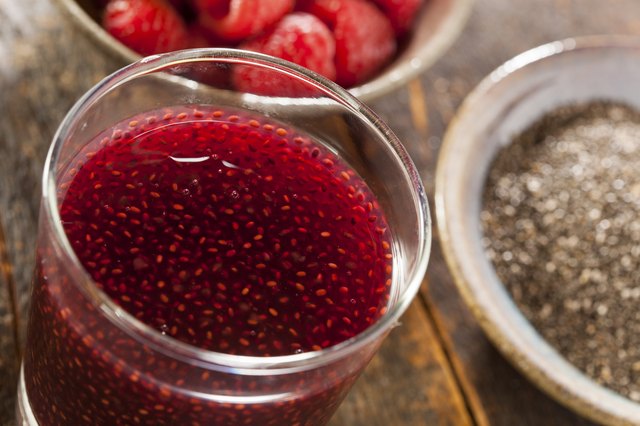 bhofack2/iStock/Getty Images
Start to Finish: 30 minutes Servings: 2 Difficulty Level: Beginner
Chia seeds bring a bit of magic into your diet. Runners got word of their use to make a natural energy drink by the ultra-marathoners, the Tarahumara Indians of Mexico's Copper Canyon, in Chris McDougall's best-seller, Born to Run. You can assemble chia fresca, or iskiate, with minimal fuss and delicious results.
Ingredients
3 tablespoons chia seeds
8 ounces of water
Mango, 1 large or 2 small
4 ounces of milk
Honey, 1 tablespoon
Fresh-squeezed lemon juice, 2 teaspoons
2 whole cardamom pods
Pinch of sea salt
Equipment
Peeler
Mango splitter
Blender
Soaking and Prep Work
Place the water in a measuring cup and sprinkle the chia seeds over the water. Allow the seeds to soak for 20 minutes. Meanwhile, peel the mango. Hold the peeled mango upright and push a mango splitter over it, the splitter's oval aligned with the slight oval shape of the mango, to remove the seed and slice the mango in half. Alternatively, cut into the flesh of the mango with a thin, sharp kitchen knife; encircle the seed and twist apart the halves. Cut the peeled mango halves roughly into 1-inch cubes; you should have around 1 ¾ to 2 cups.
Mixing and Testing
Pour the slightly gelled chia/water mixture into a blender. Add the mango chunks, milk, honey, lemon juice and sea salt. Squeeze the cardamom pods to split them and shake the seeds into the blender, discarding the hulls. Cover the blender and blend the ingredients for about 15 seconds. Remove the cover and taste test the chia fresca. Add more honey, salt or lemon juice if needed to "pop" the flavor.
Your Wealth of Options
This is a recipe that you can vary to your heart's content to enjoy varied results at breakfast time or for a pick-me-up later in the day.
Sweeteners: Add raspberries, pineapple, maple syrup, agave nectar or similar sweeteners in place of the honey. Liquid substitutions: You can use almond milk, coconut water or club soda in place of the regular water, and yogurt for the milk. Seasoning: Try a pinch of cayenne pepper to pop the flavor, or replace the cardamom with cumin. Consistency: For more pudding-like results, soak the chia seeds for several hours or overnight.