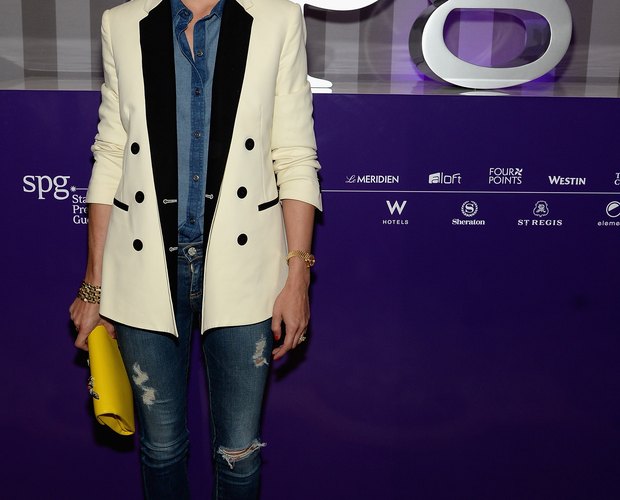 Jamie McCarthy/Getty Images Entertainment/Getty Images
Hollywood is teeming with fashion icons, and Katharine Hepburn is one of the timeless examples of standout style. At a time when other actresses where all about glamorous dresses and heels, Hepburn distinguished herself by taking some inspiration from menswear. To channel her signature look, mix some of her wardrobe staples with feminine pieces for a look that's classic but still feels modern.
Go Wide
While Katharine Hepburn would sometimes wear dresses and skirts, she is better known for her tailored trousers that she sported in the film "Bringing Up Baby." To borrow Hepburn's stand-out style, opt for a wide-leg pair in a neutral shade like gray, camel, brown or even black. At the office, wear the trousers with a crisp white button-down and your favorite pumps. For a more casual take, combine them with a cardigan and camisole and add a pair of ankle boots to finish off the look.
Oversize It
To continue the menswear-inspired look, Hepburn often paired her trousers with blazers and smoking-style jackets. Her blazers were usually oversized, so boyfriend cuts are an ideal option. While she typically paired hers with wide-leg trousers, give your outfit a modern feel by wearing a blazer with trousers in a slim cut and finish with pumps. Or pair a roomy jacket with a tank top and skinny jeans in a dark wash for an edgy look; add sexy peep-toe pumps for date night. If oversized jackets aren't your thing, swap the blazer for a tailored vest. Wear it with a white button-down or turtleneck top for a sophisticated Hepburn-inspired look.
Get Flat
While you can give Katharine Hepburn's style some modern flair by pairing your trouser and blazers with heels, opting for flats give you the most authentic look. She often wore loafers, so you might pair your favorite work trousers with a sleek leather or luxurious suede pair. Or wear them with your favorite jeans and a boyfriend blazer for a weekend casual look. Oxford-style shoes can also give your outfit some of the masculine style that Hepburn was known for -- wear a shiny patent-leather style with wide-legged pants and a tucked-in button-down blouse to really look the part.
Keep It Simple
Katharine Hepburn usually kept accessories to a minimum, allowing her clothes to take center stage. Limit your jewelry to a few simple pieces when you're going for a Hepburn-inspired look. Try pinning a costume brooch at the buttoned collar of your blouse or wear one oversized cocktail ring with your smoking jacket and jeans for date night. Opt for understated stud earrings like diamond or pearl studs and choose simple chains if you're wearing a necklace.