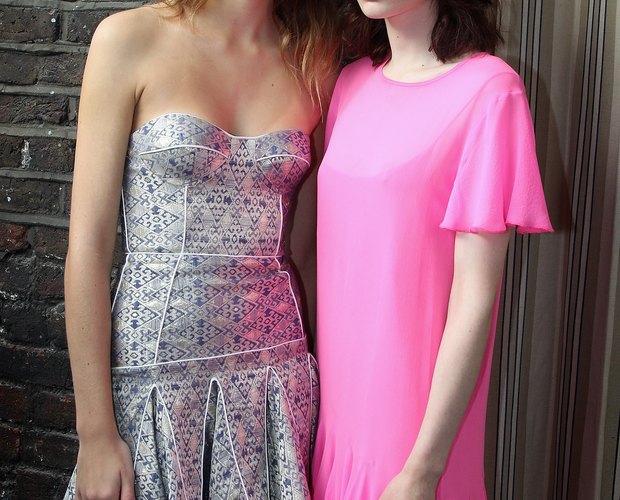 Chris Jackson/Getty Images Entertainment/Getty Images
Some think Englishwomen carry an allure and sophistication in the way they dress. You can replicate this look for yourself. English fashion is not only stylish, but practical. Since it rains so much in the UK, trench coats, rain boots, and umbrellas remain staples of an Englishwoman's wardrobe. Because of the dreary weather, English fashion implements bright colors and fresh patterns to help lift moods. Englishwomen invest in key wardrobe pieces that last for years.
Invest in a well-made trench coat. London Fog is a classic trench coat company, but new designers like Burberry and Stella McCartney have created their own classic styles. When belted, the coat should create a flattering A-line silhouette. Wear the coat on rainy days with a pair of heels or some stylish rubber boots. Pop the collar, and walk with your hands in the pockets. You'll look like an international woman of mystery.
Purchase several dresses with brightly colored floral patterns. The flowers and colors help battle off bad moods when the weather is rotten. Make sure to purchase day dresses, cocktail dresses, and evening dresses. You'll want to bring color to every situation. Pair the dresses with neutral heels. Or, find a color in your dress and match some brightly colored heels with it for extra pop.
Find a classic black dress. Every British woman has her own little black dress. This fashion staple fits more social occasions. When paired with some stunning jewelry, a fun hairstyle, and high heels, this dress can take on several different looks. The little black dress is like a blank chalk board. It allows a fashion-conscious British lady to made the dress her own.
Invest in an expensive handbag. Stylish British women only carry designer bags, including those made by Alexander McQueen, John Galliano and Vivienne Westwood. Don't choose a plain black bag. Pick a bold color or pattern that you can wear with several different outfits. Make sure the bag isn't huge, as British women carry only what is necessary with them. Always make sure you can fit an umbrella into the purse.
Treat yourself to some expensive lingerie. The proper bra can make a woman look up to 10 pounds lighter. The correct bra makes the proportions of a woman's body appear balanced and sexy. Purchase silk thongs, as this is the most popular underwear style for women in the UK. Always have a stash of sturdy, nude- and black-colored hosiery in your underwear drawer. Never leave the house without wearing hosiery.