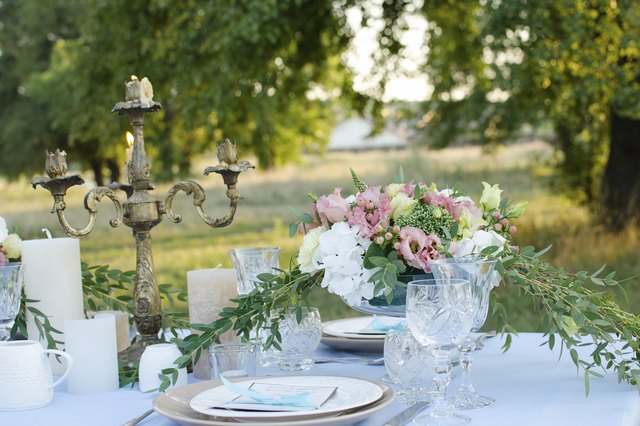 archikatia/iStock/Getty Images
Bridal luncheons are all about the woman of the hour, but you can still look and feel fabulous with structured, colorful options from your closet. While you should always keep in mind the venue and the style of the luncheon, there are plenty of avenues to spread your fashion wings for this classic bridal event.
The LFD (Little Floral Dress)
The obvious choice for a bridal luncheon is a chic, little dress. While black and white are off the docket, since one says mourning and the other takes the thunder from the bride, go for a floral or geometric print. Dresses are versatile whether you are going to a fancy, spring gathering or a cozy fall event. Opt for a dress a couple of inches above the knee, but no higher, to create that elegant, elongating effect on your body. Pair with a cardigan for a warm layer and some nude sandals or bright pumps.
Pant You Very Much
For those wanting an edgier look, try out a navy or charcoal pantsuit paired with a bright coral or jewel-toned top. A well-tailored suit can transition from an elegant tea room to a casual bar by just removing the jacket and showing off your colorful blouse. Pair with some sandals or a pair of black boots in the cooler months. Try a pair of pants with an elegant metallic print or a refreshing light color to take a twist on a classic. This is a fantastic pairing for a more modest, conservative luncheon.
Take It to the Max
Maxi dresses give off a casual, warm feeling. For those luncheons on terraces or even at a destination wedding, these beautiful pieces are ideal attire. They come in more than just cotton geometric designs. Soft floral designs, silk confections or vibrant colors make for an ideal bridal luncheon ensemble. Once again, avoid whites, creams or light rose colors so the focus is on the bride. Pair with a cardigan or a jewel-toned wrap for a warm, festive layer.
Skirt the Floor
Pair a navy or charcoal pencil skirt with a flowing blouse in a cheerful spring color. This ensemble is ideal for elegant events in hotels or fine restaurants. Alternatively, you can pair an A-line skirt with a structured blouse, tights and a pair of cozy boots for fall or winter events. Choose a scarf with a bit of sparkle for some flare.
Paint the Town
Keep your makeup subtle and toned down. A light touch of peach blush, a slightly flicked black liner on your top lash line and a soft, pink on the lips is all you need to look classy and ready for a luncheon. Daytime events call for soft colors and light makeup. Do your hair in a soft chignon bun or in soft, loose curls that hang around your shoulders.