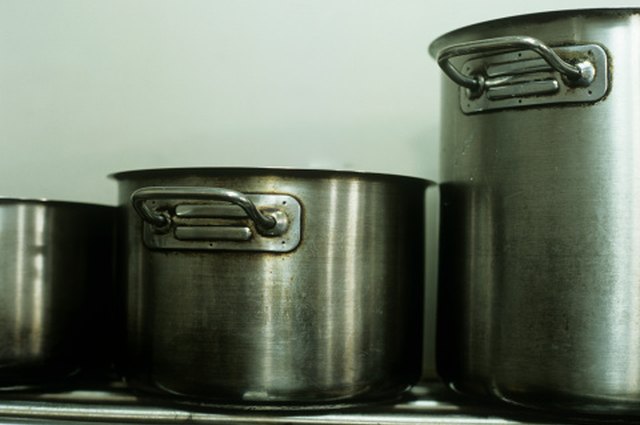 Stockbyte/Stockbyte/Getty Images
Twinkies, invented by Jimmy Dewer in 1930, can still be found in the lunchboxes of American children. While for many Twinkies are nothing more than a quick, sweet snack, for others it is a food that provides fertile ground for invention. A fried Twinkies version often found at many state fairgrounds is an example of this experimentation. To duplicate this fairground fried Twinkies recipe, you only need a few baking ingredients, pancake batter and fresh Twinkies.
Mix together a buttermilk pancake mix. A boxed mix will work well for this recipe. If you don't have a boxed mix, mix together 1 cup of milk, 2 tbsp. of vinegar and 1 tbsp. of vegetable oil. In a second bowl, mix together 1 cup of flour, 1 tsp. of baking soda and 1/2 tsp. of salt. Add the liquid ingredients to the dry ingredients and blend them until a smooth batter forms.
Heat 4 cups of vegetable oil in a large saucepan or fryer. Make sure that the temperature of the oil is between 350 to 375 degrees Fahrenheit.
Remove the Twinkies from the freezer. You should place the cakes in the freezer at least several hours ahead of time. Insert a popsicle stick into each cake lengthwise, making sure that approximately 2-in. of each stick protrudes from the ends of the Twinkies.
Dust the Twinkies with flour. Coat the Twinkies in the batter by rolling them in the mixture you created in Step 1.
Hold the Twinkies by their sticks with tongs and gently drop them into the hot oil. Because the Twinkies will float, you may need to hold them down with the tongs as they brown on all sides. It should take approximately four minutes for the Twinkies to finish frying.
Remove the Twinkies from the oil. Place them on a paper towel-lined plate.
Pull out the popsicle sticks. Wait at least two minutes for the Twinkies to cool before serving.
Tip
Don't fry more than two cakes at a time.