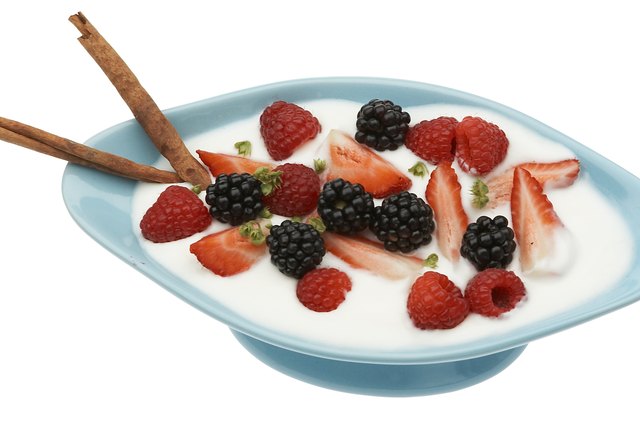 PhotoObjects.net/PhotoObjects.net/Getty Images
Fungus is a condition in which spore-producing organisms pass the resistance barriers on the body and create infections. Fungus infections are usually found in the digestive tract, genital area, mouth, and on the skin between the fingers and toes. Fungus growth can be due to environmental factors, increased use of antibiotics, high-sugar intake and poor diet. According to the University of Michigan, eating one cup of yogurt each day that contains live, beneficial cultures known as "friendly bacteria," can help to kill and prevent certain fungus infections.
Purchase yogurt without added flavoring agents or presevatives. The yogurt container should have "Active Cultures" printed on the label.
Start your day with a yogurt topping on oatmeal, cold cereal or granola. Cook yogurt directly into your pancake batter.
Have a cup of yogurt for lunch, topped with nuts or fresh fruit. Make a creamy salad dressing with yogurt. Mix 1 cup of yogurt with 1/4 cup of olive oil, and spoon over your salad or side dishes. Combine yogurt, chives and pepper for a topping on potatoes, yams or other cooked vegetables.
Prepare dips out of yogurt for artichokes, chips, crackers and breads. Add to a bowl 1 grated cucumber, 1 cup of plain yogurt, 1 cup of sour cream, 1 tbsp. of prepared Greek seasoning and 1 tsp. of lemon juice. Stir well, and season with salt and pepper. Yogurt can also be baked directly into breads and muffins.
Enjoy healthy yogurt smoothies and shakes. Add to a blender 1 sliced banana, 1/2 cup of milk, 1 cup of strawberry yogurt, 1/4 tsp. of nutmeg and 1 tsp. of sugar. Blend until smooth.