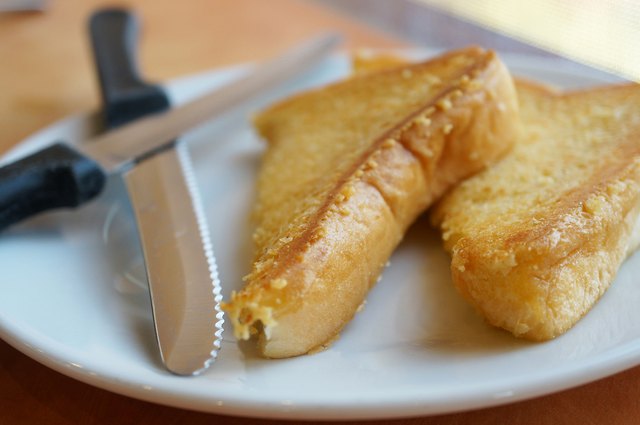 Like everything from Texas, the Lone Star State's namesake toast is bigger than regular toast, making it better for big sandwiches, big French toast and big garlic bread. The historic Pig Stand drive-through in Texas claimed to have invented Texas toast, but you don't need any culinary expertise to make it yourself.
You can use pre-sliced bread labeled "Texas Toast," but for the best results, purchase an unsliced loaf of quality white bread from a bakery or the bakery section of the supermarket. Use a long, serrated bread knife to cut slices approximately 1 inch thick.
Tips
Texas toast is traditionally made using only classic white bread, but use any unsliced bread you like for your own custom version. Egg bread, potato bread, sourdough and challah all work well.
Texas toast slices are cut too thick for a regular electric toaster, but you can grill, broil, oven-toast or pan-fry it. All of these methods are quick and require you to keep a close and constant eye on the bread to make sure it doesn't burn.
The bread slices for Texas toast are usually spread with butter or garlic butter before being cooked -- another reason using an electric toaster is not an option. Spread one side of each thick bread slice with room-temperature butter, or butter mashed with minced garlic or garlic powder and, optionally, a little dried parsley. Proceed with one of these cooking methods:
Add grated cheese to your plain or garlic Texas toast during the cooking process. Have a bowl of grated cheese at the ready while you toast the first side. Use a cheese that melts well, such as cheddar, mozzarella or Gruyere, or any combination of cheese you like.
With the oven-toasting or broiling methods, sprinkle an even layer of cheese over the second side of the toast before returning it to the oven or broiler. Keep your eye on the toast, and remove it when the cheese is bubbly.

With the grilling or pan-frying methods, sprinkle cheese over the second side,. Then cover the grill, grill pan or skillet with a lid. Alternatively, make a foil tent to loosely cover the toast without touching it. Peek under the lid or foil every few minutes, and remove the toast when the cheese has melted.