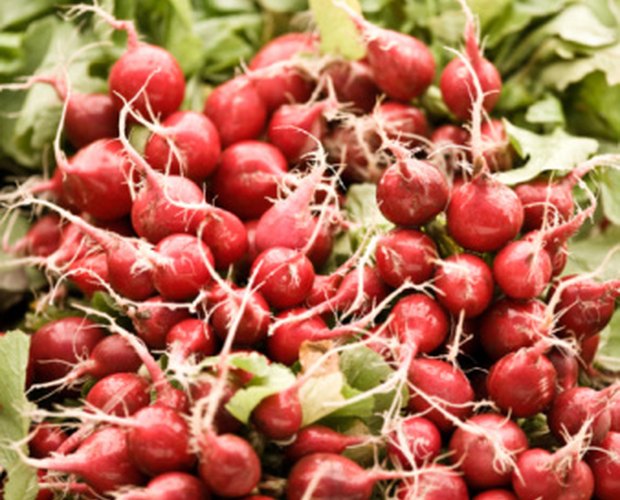 Jupiterimages/Photos.com/Getty Images
Radishes are crispy vegetables with a bit of bite to them flavor-wise. They are often used for eating fresh and raw in salads and for dips due to their crunchy texture. If you find yourself with an overabundance of radishes and are unsure what to do with them, consider freezing as an option. The radishes must be cooked first because they will change in texture in the freezer due to their high water content. No matter which method you choose, they will end up tasting different after being frozen but can still be a delicious addition to a meal.
Blanching
Cut the trimmed radishes into small pieces.
Place in a pan of boiling water for two to three minutes.
Remove radishes from water and immediately place into an ice water bath in a separate bowl. Allow to cool and freeze in freezer bags or plastic containers. These radishes can be used as is or in recipes once thawed.
Braising
According to a recipe from the Boston Globe (Reference 2), place two Tbsp. butter in a large pan on medium heat and allow to melt. Add one chopped shallot to the butter and allow to soften for two to three minutes.
Add one pound of cleaned and trimmed whole radishes, one and one-half cups of chicken stock, one Tbsp. red wine vinegar, two Tbsp. sugar and salt and pepper to taste. Simmer for 10 minutes.
Remove radishes and allow to cool. Place in a plastic freezer bag or plastic container and freeze until ready to use. These radishes will need to be heated up once thawed to serve as a ready-made side dish to meats or other entrees.