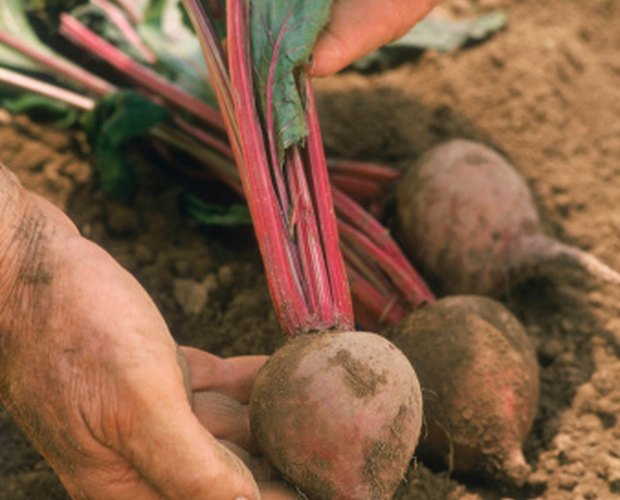 Comstock Images/Comstock/Getty Images
The deep, rich red of beet juice is a nutritional powerhouse. Containing iron, calcium, potassium and vitamin A, as well as a variety of other vitamins and minerals, the vegetables can be used to treat a variety of health problems, from anemia to menopause. By juicing the powerful little vegetable, its properties can be easily accessed right at home. However, they are only needed in small amounts to cleanse the kidneys and circulatory system in the body.
Wash the beet under running water, while scrubbing it with the vegetable brush to remove all dirt and debris.
Cut off the top of the beet and discard it.
Peel the skin off of the beet and discard it.
Cut the beet in to quarters, or whatever size fits in your juicer.
Turn the juicer on and place the small bowl in front of the spout where the juice empties from.
Insert the beet quarters in the designated hole leading to the blades. Press them down using the plunger provided with your juicer. Turn off the machine as soon as all the beets have processed through.
Combine on to two ounces of beet juice, about half of the small beet, with another fresh juice, for pure beet juice by itself can cause allergic reaction symptoms, such as hives.
Use the other half of the juice the following day, after storing it in the fridge overnight.
Tip
Do not be alarmed if your urine and stools turn red, this is a natural after consuming beets or their juice.
Only use beets that are smooth and firm, not shrivelled or soft, for these are overripe.
The smaller the beets are, the sweeter they are for juicing.
Warning
Always combine beet juice with another juice, for drinking it straight can be dangerous.
Never use more than 2 ounces of beet juice per day.