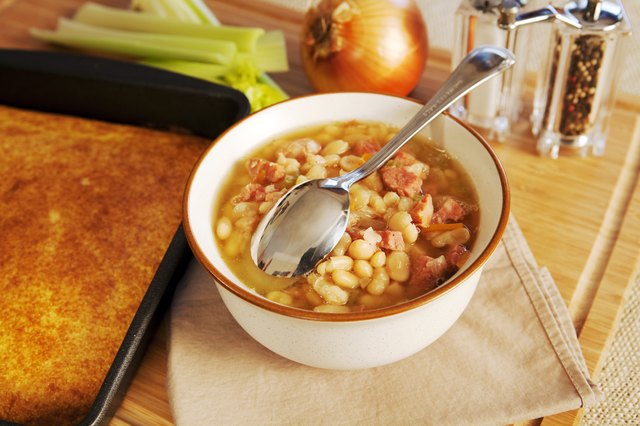 Northern beans, or Great Northern beans, are white beans with a very delicate flavor. They are available year-round, and can be used in many different dishes. They are also quite popular eaten alone. For best results, the beans should not be soaked prior to cooking. This makes it easier to stop cooking when the beans are soft and tender, but still have their skins intact. This recipe yields approximately 6 to 8 servings of northern beans.
Put 1 lb. of dried northern beans into a large stock pot with a tight-fitting lid. Cover with cold water, until the water line is about 3 inches above the beans.
Bring the water to a boil over medium-high heat. Then reduce to medium-low so that the northern beans are simmering gently. Partially cover with the lid, stirring occasionally.
Check the beans every 10 to 15 minutes for tenderness. If most of the water has been absorbed, but the beans still don't seem tender, add a bit of warm water and continue cooking.
Add a large pinch of salt and a few grinds of fresh black pepper from a pepper mill to the pot once the beans begin to get tender. Stop cooking when the beans have reached the desired tenderness. For northern beans, this is usually when the skins are still intact but the center is soft.
Remove the pan from the heat. Drain any excess water from the beans.
Serve immediately, or store them in the refrigerator until ready to serve. Garnish with fresh parsley if desired.
Tip
Add fresh butter, olive oil, chopped fresh herbs such as cilantro or mint, vinaigrette, curry powder, or yogurt to give your northern beans more flavor.
Serve with a salad and corn bread for a complete vegetarian meal.