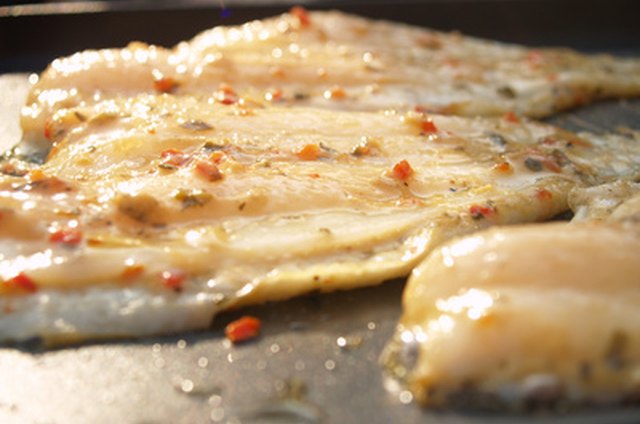 You don't have to defrost your fish before you cook it, and that's really helpful if you're in a hurry for a healthy dinner. There are a couple of ways to cook frozen fish directly from the freezer. Choose the one that's right for you.
Remove the fish from the freezer and remove plastic wrap, if the fish is individually wrapped.
Preheat the barbecue grill or the George Foreman Grill.
For the barbecue, cut a large piece of aluminum foil, place the fish pieces on the foil, season to your taste, and wrap up the fish securely in the foil.
Place the packet directly on the barbecue grill, and grill until done, about five to 10 minutes for small pieces like tilapia, to about 15 to 20 minutes for large pieces like salmon.
For the microwave, place the fish in a microwave safe bowl, season to taste, dot with butter, and cook about five minutes or so, depending on the fish.
For the George Foreman grill, place the fish pieces directly on the grill, season to taste, close the cover, and grill about five to 10 minutes, depending on the size of the fish.
Tip
To make sure your fish is done; it should flake gently but not be too flaky or dry.
Warning
Test for doneness often, overcooked fish will be dry.
References