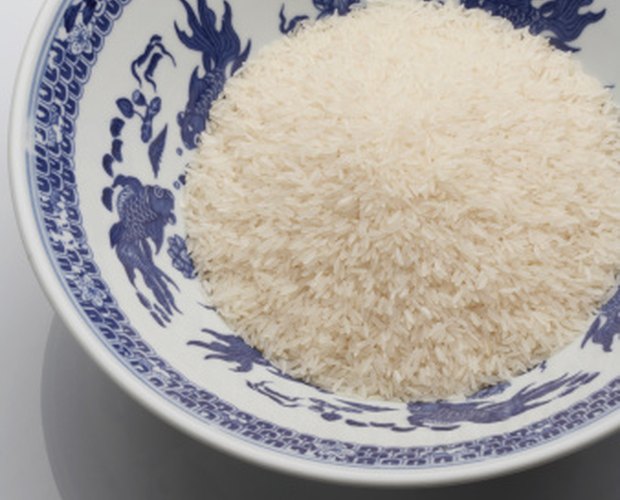 Blue Jean Images/Photodisc/Getty Images
The United States produces more than 20 billion pounds of rice each year, according to USA Rice Federation. Canilla rice comes in both short and long-grain varieties and according to Goya.com, "is a favorite for generations and a staple in the Hispanic diet." Many people eat canilla rice as part of a healthy diet. It can be paired with meat, fish and poultry or even served alone. Canilla rice can be cooked in less than 30 minutes by following a few easy steps.
Prepare the ingredients to be combined with the canilla rice. Coarsely chop 1 ½ cups of arugula, mince one clove of garlic and julienne 1 ½ cups radicchio. Chop 1 tbsp. fresh Italian parsley and 1 cup watercress leaves and set aside.
Bring 2 ½ cups of water to boil in a 6 qt. saucepan. Pour in 1 cup canilla rice, turn down the heat to low and simmer for 20 minutes. Use a heavy pan to keep the rice on the bottom from getting burnt. To keep canilla rice from sticking together when cooking, add one tbsp. of oil or butter.
Heat the butter and oil in a 12 inch frying pan while the rice is cooking. Mix in the watercress, garlic and arugula. Maintain a medium heat and stir continually until the greens become somewhat wilted.
Add the canilla rice to the frying pan once it has finished cooking. Then thoroughly mix in the parsley, radicchio, salt and pepper to taste.
Transfer the cooked rice to a serving bowl, cover to keep warm and serve immediately.
Tip
If rice is still watery after being cooked, evaporate the water over a low heat and fluff with a fork. Store unused canilla rice in the refrigerator to keep it fresh longer. Never stir rice; it makes it stick together and smashes the grains. Always keep rice in an air-tight container.
References