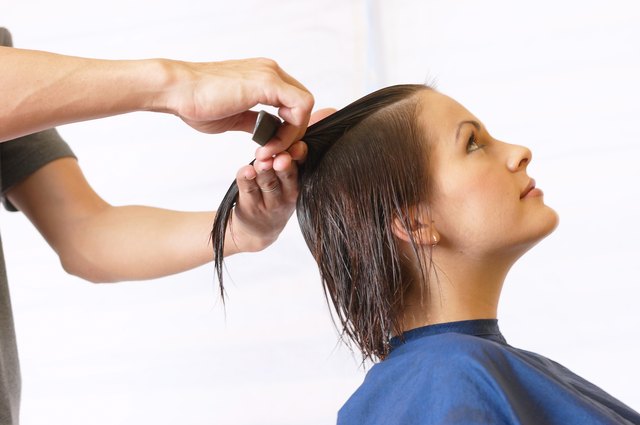 Hemera Technologies/Photos.com/Getty Images
Halo is a popular color technique that colorists use to create two-toned color. Celebrities who have taken advantage of this color technique include Christine Aguilera and Jessica Simpson. This technique is also a popular choice among the emo and scene crowd as it can be used to add a vibrant splash of color to the underneath layers of the hair. Halo color is identified by a ring of color, either lighter or darker, that wraps completely around the head adjacent to the hairline. A contrasting color is applied to the top layers of the hair so that the Halo highlights/lowlights peek out from underneath the top layers.
Remove tangles from clean, dry hair. Create a circular part, approximately 2 inches from the hairline, encompassing the top of the head and the crown. Pin the top section up and out of the way using the hair clips. Comb the ring of loose hair straight down. Carve out 1-inch triangles around the part using the part as the base of the triangle. When you are finished, the part should have a zigzagged appearance. Pin up the carved out hair to the top of the head as you move around the head.
Pour 2 oz. of the color that you selected for the underneath section of the hair into the color bowl and add 2 oz. of color developer. Blend thoroughly using the color brush. Put on gloves.
Apply the color to the underneath section of hair using small, 1/2-inch partings. Work the color into the hair with your fingers and continue applying color until the hair is completely saturated. Rinse out the color bowl and brush. Wash your gloved hands with warm water.
Mix equal parts of the second selected color and developer into the bowl. Remove hair clips. Apply color to the top section of hair using small sub-partings. Continue applying color until all of the hair is thoroughly covered with the color. Set the timer for 30 minutes.
Rinse the hair with warm water until all of the color has been rinsed away. Shampoo the hair twice to ensure color removal. Condition the hair.
Tip
The developer strength that you will need to use depends on the colors that you choose. If you are coloring your hair darker, use 10-volume (strength) developer on the portions of hair that you are coloring darker. Use 20-volume developer to lift one to two shades. Thirty- and 40-volume developers are used to lift hair three to four shades respectively.
Color does not lift hair color. If you wish to go lighter, and your hair has been previously colored, you must pre-lighten your hair using bleach or a hair lightener before you can color your hair.