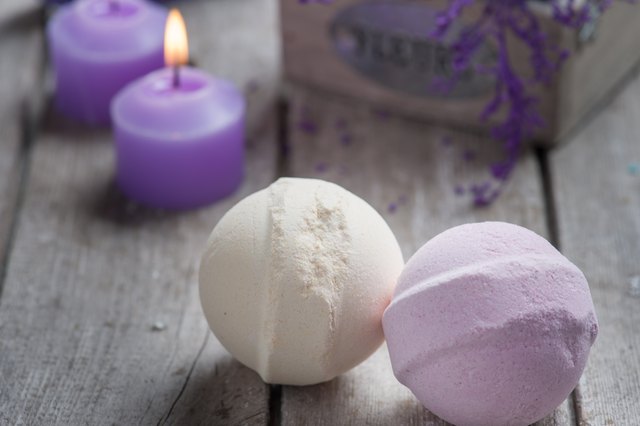 IrinaBort/iStock/GettyImages
Making your own bath bombs is an inexpensive way to create some excitement in the bathtub! Because of the ingredients involved, a freshly made bath bomb is white, but can be simply colored to create a vibrant bath bomb and colorful bath water. You can add your colorant in either the liquid phase of preparing the bath bomb, or the dry phase. While it is slightly easier to add the colorant in the liquid phase of the recipe, the choice between liquid or dry phase is mostly aesthetic. Colorant added in the liquid phase will provide a uniform color, while coloring in the dry phase will create a interesting speckled effect in your bath bomb.
Adding Colorant to Liquid Phase
When using a dry colorant, mix together ¼ tsp colorant and ¼ tsp water to equal ½ tsp of colorant mixture.
To add dry or liquid colorant to the liquid phase, measure out ½ tsp of either dry or liquid colorant and add colorant to the liquid bath bomb mixture before adding fragrance oil.
Stir well and combine liquid with dry mixture.
Stir the entire mixture together. The color should be spread evenly throughout.
Adding Colorant to Dry Phase
To add dry or liquid colorant to the dry phase, measure out ½ tsp of either dry or liquid colorant.
Add the colorant to 1 cup of Epsom salt and stir very well. The color will not evenly disperse. It will color some of the salt, creating a speckled effect.
Mix in the colored salt with the remainder of the dry ingredients.
Tips
The resulting color of the water in the bathtub is due to the amount of colorant in the bath bomb. Always test bath bombs beforehand in a bowl of warm water to be sure the color vibrancy is correct.

La Bomb Colorants are specially made bath bomb dyes that are non-staining dyes that are perfect for layering and color effects.
References
Resources