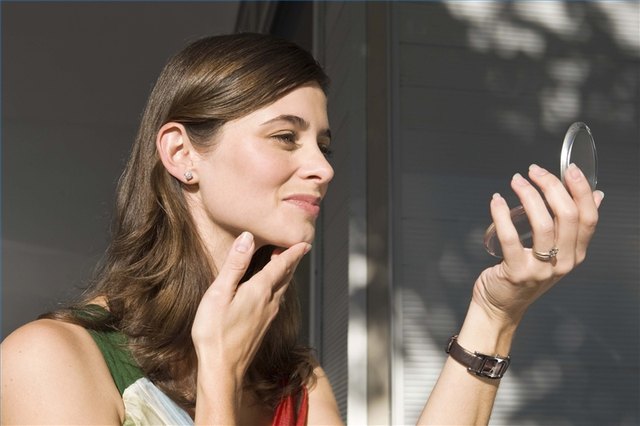 A good dusting of powder offers instant skin-perfecting coverage, helps to absorb the natural oils on your skin and sets your makeup for all-day wear. For a natural and flawless finish, select powder colors that complement your underlying skin tone as closely as possible. While beauties with medium- and olive-toned skin look best in golden or yellow powders, porcelain and pale-hued women need light-colored pink, rose and soft peach-toned formulations.
Make sure your foundation, if you wear any, disappears as you blend it into your skin. Powder can either complement the perfect foundation color or serve to neutralize any slight color imbalance.
Head to a department store counter and talk to a veteran beauty consultant. Bring your foundation along, or go with freshly applied foundation so you can test powder colors over your everyday makeup.
Start with colors that match your skin tone. You may be inundated with pink, yellow, green and purple shades all designed to make your skin look its best. Stick to what makes you feel comfortable and complements your skin tone best.
Check the colors you test in good lighting, or step outside to consider your options in natural light. You're looking for a color that blends with your skin, rather than sitting on top of it.
Remember that translucent powder still has color in it. Some may advise that this is the most natural option, but it may render you pale or pasty.
Tip
Pressed powder may seem darker because it's packed more densely. Test all colors before buying. Bring a trusted companion along for an honest second opinion.