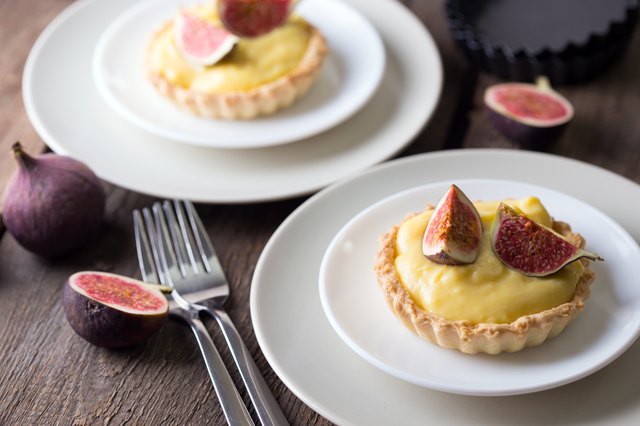 The trick to thick and creamy custard lies in the baking process. By baking the custard ingredients slowly and gently within a waterbath (a larger baking dish filled with warm water), the egg yolks thicken the cream deliciously. Eventually, the custard sets and you can enjoy a deliciously creamy treat. Take a shortcut and change instant vanilla pudding into custard for a no-bake alternative that will create a tempting dessert.
Open the instant pudding package and pour the powder into the small bowl.
Add 1 cup of the milk to the instant pudding and stir the ingredients for about one minute to mix them completely.
Add the remaining milk, sugar and vanilla extract to the bowl and beat the ingredients for five minutes.
Fold in the whipped cream with the spatula and incorporate the ingredients gently. Do not over-mix or the whipped cream may deflate.
Pour the custard into the plastic container and cover it.
Refrigerate the custard for at least eight hours. Stir the custard immediately before serving it.
Tip
This recipe serves six to eight.
References