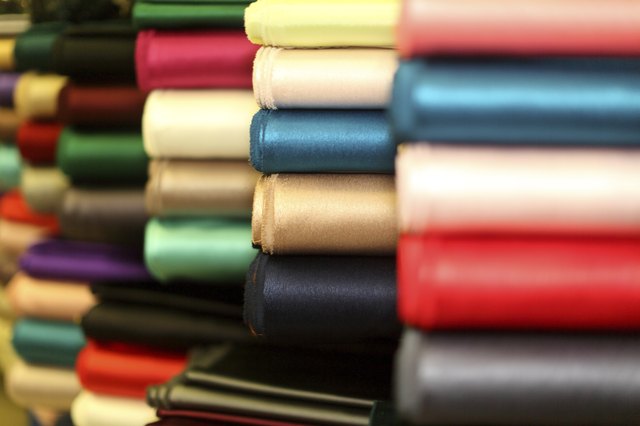 zhrkznn/iStock/Getty Images
Regardless of whether you're making outfits for the swim team or trying to save money on summer wear, choosing the right materials for your bikini is essential for the garment's comfort, thickness and durability. When shopping for swimwear materials, check the label to see whether any of the fabrics features a built-in SPF. Many of the newer manufacturers include this feature for an additional cost, and it's worth it to protect your skin. Most of all, it is best to select bikini fabrics that offer an acceptable amount of coverage and stretch while complementing your personal style.
Select Lycra or Spandex swimsuit material. The most expensive material is usually a four-way stretch spandex, which tends to last longer and provide a more comfortable fit than two-way stretch fabric. Check the spandex-to-nylon ratio, as fabrics with a higher concentration of spandex tend to be more expensive.
Test the fabric by stretching a small piece taut and then releasing it. This will give you an idea of how the fabric will respond to wear and tear. Hold the fabric in a stretched-out position to get an idea of what it will look like when it's wet.
Pick a high polyester-content fabric if you're going to wear your bikini in swimming pool treated with chlorine. Also, buy fabric with nylon if you're planning on exposing your bikini to salt water.
Select a color or print. When choosing colors, remember to mix and match tops and bottoms to create a stylish and flattering contrast.
Ask the salesperson whether she has any extra spandex fabric for you to use to experiment with making a bikini. Buy samples if possible, so you don't waste expensive fabric on a tester bikini.
Buy swimsuit lining to make sure your bikini isn't transparent. Get extra lining just in case you need more coverage, especially if you're making a lightly colored bikini bottom.
Pick up elastic to help ensure the fit of your bikini. Ask the salesperson whether he sells elastic designed for chlorine exposure. Refer to the swimsuit pattern for width requirements.
Pick up some sheer or lightweight material, and use it to create a fun and flirty bikini wrap.
Tip
Change the needle often when sewing with spandex, as the material tends to dull needles. Preshrink spandex fabrics before you cut them.
Warning
Don't use cotton thread on bikinis. Use a nylon thread, with a little stretch, instead.