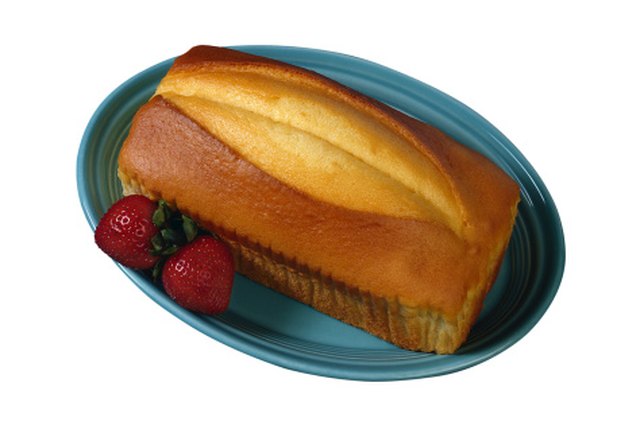 Brand X Pictures/Brand X Pictures/Getty Images
A heavy, sweet cake known for their density, pound cakes are typically made with flour, sugar, butter, and eggs. It is often thought of as a guilty pleasure because it can be fattening - but it doesn't have to be. A vegan pound cake uses no dairy, little sugar and no eggs, and it is just as rich and moist as the original. Made with tofu and almond milk, this savory treat has considerably less fat than a traditional pound cake and may be eaten guilt-free with vegan whipped cream, fruit, or any number of toppings.
Preheat the oven to 350 degrees F and prepare an 8-inch loaf pan either by spraying the pay with nonstick cooking spray. Alternatively, you can apply a small amount of vegetable shortening to the pan and coat the surface evenly using a paper towel. Set the pan aside.
Mix the dry ingredients in a large bowl and set aside for later.
Blend the wet ingredients using a blender or a food processor, blending until smooth.
Incorporate the wet ingredients into the dry ingredients, mixing until just evenly combined. Be careful not to over mix the batter.
Pour the batter into the prepared pan and place it in the oven to bake for about 40 minutes, or until the top is golden brown. A good way to see if the cake is done baking is to insert a toothpick into the center of the cake. The cake will be fully baked when the toothpick comes out clean.
Allow the cake to cool in the pan for about 10 minutes. You may then remove the cake from the pan and place it on a wire cooling rack.
Tip
Using vanilla-flavored almond milk rather than plain almond milk will enhance the flavor of the cake.
References