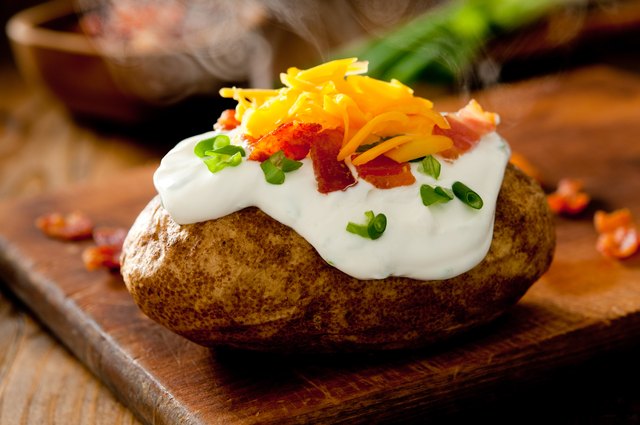 The baked potato is a side dish staple that pairs perfectly with steak, chicken or fish. You can keep it simple or get creative with hearty toppings such as bacon and shredded cheese. Kick it up a notch with a dash of flavorful spices such as cumin or smoked paprika.
Many types of potato are available at your local grocery store. Russets are a good choice; the thick outer skin will crisp up nicely as it bakes.
Clean the potatoes thoroughly under warm water with a vegetable scrubbing brush.
Dry them with a paper towel to remove any excess moisture.
Pierce the potatoes with a fork to allow the steam to escape throughout the baking process.
Cover the potatoes with olive oil, using a basting brush.
Season generously with sea salt and cracked black pepper.
Baking your potatoes in the oven remains one of the most reliable methods, because you can control the heat throughout the cooking process.
Preheat your oven to 350 degrees Fahrenheit.
Place your seasoned potatoes directly onto the top rack of your oven.
Bake the potatoes for one hour.
Remove the potatoes from the oven and allow them to cool.
If the potatoes are not soft to the touch, bake for an additional 15 to 20 minutes.
Baking your potatoes on the grill will infuse them with a delicious smoky flavor and help to ensure the skin has a nice crunch.
Set your gas grill to a medium heat or create a medium hot fire in your charcoal grill.
Align your potatoes on the center of the grill rack to cook with direct heat.
Rotate the potatoes every few minutes to prevent the skin from burning.
Cook the potatoes for 45 to 55 minutes.
Check the softness of the potatoes and cook for a few more minutes if necessary.
Use a sharp knife to split the potatoes open. Squeeze each end simultaneously to create restaurant style presentation. Season the potatoes generously with sea salt and cracked black pepper as well as any of your favorite spices.
Top with a few tablespoons of butter and a dollop of sour cream. For a fancy twist on the traditional baked potato, add minced garlic, caramelized portobello mushrooms and fresh feta cheese.
To save time, microwave your potatoes on high for 6 to 8 minutes. Transfer to the grill and cook for an additional 8 to 12 minutes.