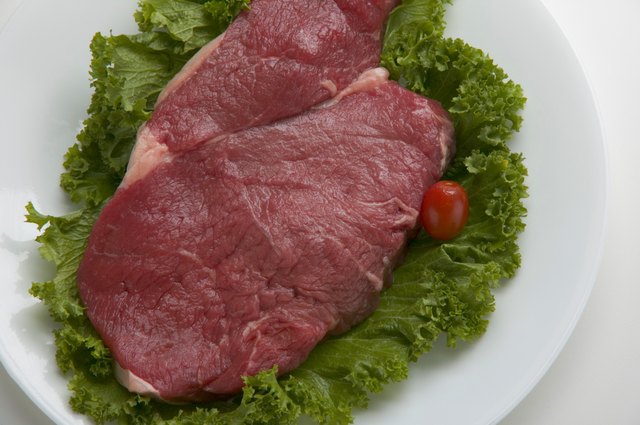 Jupiterimages/liquidlibrary/Getty Images
Petite sirloins are small, flavorful cuts of meat taken from the sirloin tip that is cut off the bone. There are several ways to prepare these smaller pieces of steak. Start by getting a delicious herb crust before baking the steak. Eating petite steaks is good for dieters who want a serving of protein without too many fat calories. Petite steaks also make good breakfast meats to serve with your favorite egg dishes. Bake your steak and avoid the hassle of firing up the grill or frying the beef.
Preheat the oven to 350 degrees Fahrenheit. Take the steak out of the refrigerator and let it come to room temperature for 10 minutes.
Place 1 tablespoon of butter in a non-stick skillet. Turn the heat on medium heat. Lay the steak on a platter and sprinkle both sides of the steak with the salt, pepper and garlic powder.
Place the steak in the melted butter and turn the heat to medium-high. This will sear the meat and seal in the spices. Cook for 1 minute then turn and cook the meat for 1 more minute.
Place the steak in the oven, baking it for 10 minutes.