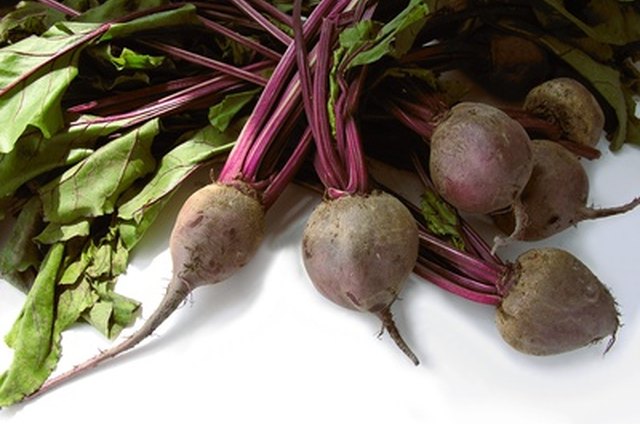 early red beets and young beet leaves image by Maria Brzostowska from Fotolia.com
As the name implies, beetroot juice is made from the pulp of the roots of the red beet plant. The roots of the red beet plant are rich in sodium, magnesium, potassium and vitamin C. The extracted juice is high in moisture, and it will fortify your skin. You can apply beetroot juice to your face to hydrate the skin's surface and give it an extra boost of nutrients. Applying beetroot juice to your face requires only a few common supplies from your bathroom.
Wash your face with warm water and allow it to air dry. This process removes built up dirt and grime that would interfere with the beetroot juice settling on your face.
Soak a cotton ball in beetroot juice.
Dab the soaked cotton ball onto your face, avoiding your eyes and mouth. Apply only enough to wet your skin without the juice dripping down your face.
Allow the juice to set on your face for two minutes before reapplying with a freshly soaked cotton ball. This technique ensures your skin is covered in the beetroot juice thoroughly.
Allow the juice to dry on your face for 15 minutes. During this time, do not touch your face with your hands, as you will remove some of the juice.
Soak a soft washcloth in warm water. Wash away the beetroot juice in small, circular motions.
Pat your face dry with a soft cotton towel to complete the facial treatment.
Tip
Always test a skin treatment on a small patch of skin before applying over your entire face to ensure you are not allergic.