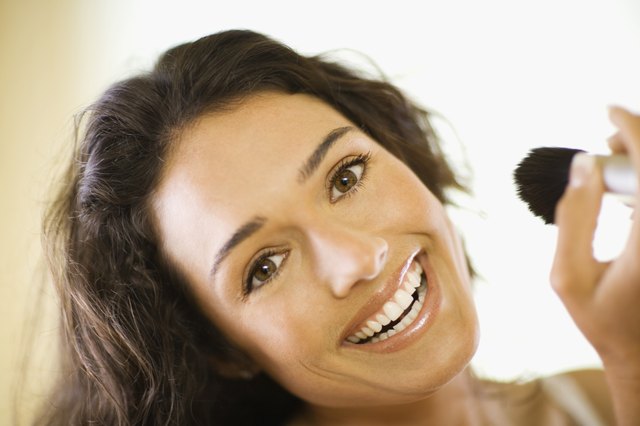 Jupiterimages/Brand X Pictures/Getty Images
Rose-infused water, commonly known as rosewater, has several benefits as a beauty aid. Oils extracted from rose petals and combined with water create tonics used for their fragrance as well as their antiseptic and anti-inflammatory properties. Glycerin, also known as glycerine or glycerol, an alcohol and byproduct of the soap-making process, is a common emollient found in many personal care products. These qualities of rosewater and glycerin make them a popular combination for homemade cosmetics.
Get Fresh Rose Petals
You can make rosewater at home, but be sure to use only organic rose petals. They should be fresh, pesticide- and chemical-free and in healthy condition before you use them. Pick the roses from your garden, or buy whole roses or just the petals from a local florist. According to TipNut.com, it's best to pick roses two or three hours after sunrise, when morning dew has evaporated. Wash the petals with tepid water to remove dirt and bugs just before you use them.
Making Homemade Rosewater
Pour distilled water over rose petals lining the bottom of a clean cooking pot. According to TipNut.com, a good ratio of packed petals to water is 1:2. Cover the pot and heat the water to just below the boiling point. Let the petals steam for about an hour, uncovered. The water is infused when the petals have lost much of their color and oil is visible on the water's surface. Strain the petals out before using the rosewater.
Making Glycerin and Rosewater Facial Cleanser
Combine homemade or store-bought rosewater with pure vegetable glycerin or glycerol, which you can purchase at a craft store or natural food store. Combine 4 to 8 oz. of rosewater with 1 to 2 tsp. of glycerin in a clean toiletry bottle or jar. Adjust the amount of glycerin up or down by a few drops until the mixture reaches your preferred consistency. Shake the solution for five to 10 seconds until combined to make a natural facial cleanser. Be sure to shake it before each use.
Making Facial Toner
Combine the cleanser solution with witch hazel, at a ratio of about 2:1, to make a rosewater toner you can apply to your face after cleansing. Refrigerate the toner after using it. Store for up to two weeks.
Be sure to test these products on your skin before you use them. Glycerin can be an allergen and is drying for some skin types. Rub two drops on the inside of your elbow and wait 48 hours to see if your skin reacts with redness, irritation, severe dryness or swelling.