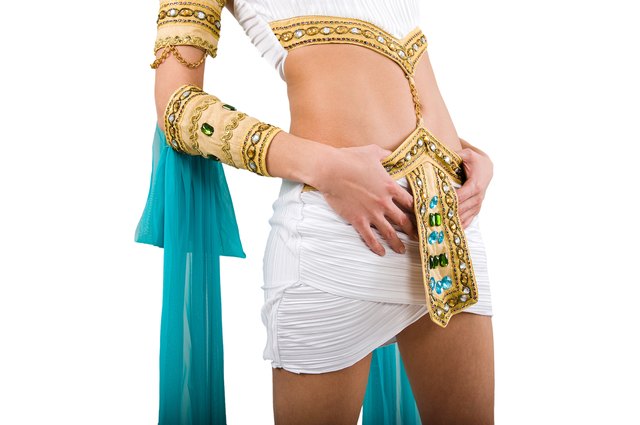 "Age cannot wither her, nor custom stale her infinite variety," Mark Antony's best buddy remarks in Shakespeare's Antony and Cleopatra -- and ageless style is exactly what makes Cleopatra VII Philopator's famed exquisite beauty so comfortably recreated out of clothing you already own. With just a little embellishment, today's streetwear transforms into a costume fit for an Egyptian queen.
Despite being part of a privileged Greek minority in Egypt, the Ptolemaic queen embraced Egyptian language and custom, including dress. Sheer white linen sheath dresses called kalasiris were common, although Cleopatra's might have been interwoven with gold thread to show her status.
Ancient Egyptians were big on gold jewelry, so go all-out with your own pieces and any thrift store finds. Wear gold bangles and arm or ankle bands and big gold earrings. If you don't have arm cuffs, cut gold fabric into strips and tie it around your upper arms. Embellish with paints if you like.
Big necklaces are part of the classic Cleopatra look, so pile on any Egyptian-inspired Art Deco bejeweled or gold pieces you have. Create a collar necklace by stringing flattened gold-painted bottlecaps or gold foil wrappers together, or make a faux collar out of a piece of thick fabric.
Cut a large circle from the fabric, then cut a hole in the middle for your neck.
Cut a slit up the back so you can get your head into it.
Paint the circle to look like a necklace with fabric paint.
Add a pair of sandals -- think gladiator style, not flip-flops -- to finish the outfit.
Tips
If you want to be a Cleopatra mummy, wrap bandages, gauze or strips of fabric around your legs and arms in a haphazard way, letting the ends dangle. A short dress may better show off this effect.
Ancient Egyptians famously wore wigs, even Cleopatra. Mimic the look with a cheap black Halloween store wig with thick bangs, or spray your own hair black with costume hair color. Braid the entire wig or just the top layer, and string gold or gold-painted beads onto the ends. Adorn the look with a headband made from gold trim.
Go heavy on the eyes for makeup. Elizabeth Taylor's look in 1963's Cleopatra featured a neutral lip, heavy black winged liner, full lashes, dark brows and vibrant blue eyeshadow applied all the way up to the eyebrows. Theda Bara's 1917 look and Claudette Colbert's 1934 look also featured winged liner and dark brows, with bold red lips.
Tips
If you want to mimic the Pharaoh headdress look, fill the legs of a pair of black tights with polyfill stuffing and paint gold stripes on them. Wear the stockings' waistband on your head and wrap gold trim around it.