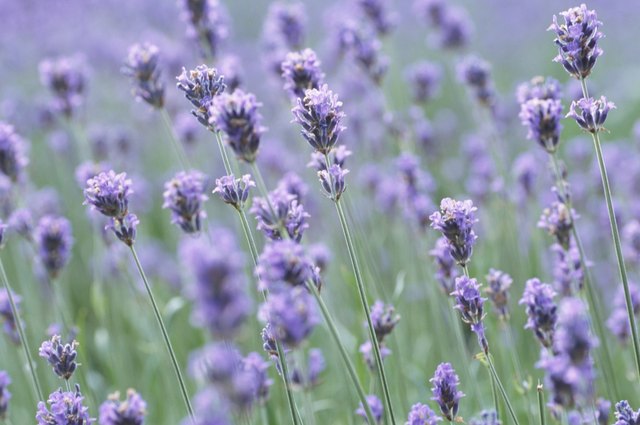 Hemera Technologies/AbleStock.com/Getty Images
Throughout history, Native Americans have placed great spiritual value on their hair, cutting it only during times of mourning or life-changing events. To maintain their long, thick hair and to encourage vigorous growth, wild herbs were harvested and used in infusions, oils and ointments to soothe scalp wounds or irritations, to strengthen and add brilliance to the hair shaft and to prevent thinning. Many Native Americans today, honor the traditions of their forefathers and continue to use natural herbs to groom and care for their long braids or flowing hair.
Lavender
Lavender (Lavandula angustifolia or Lavandula officinalis), native to the Mediterranean, is now grown in temperate climates worldwide. For centuries, lavender has been used by herbal practitioners to prevent baldness and to encourage new hair growth. Lavender contains potent anti-bacterial agents that soothe and heal scalp infections. It is useful in treating dandruff and adds volume to the hair shaft. Place a few sprigs of lavender in a glass container and cover with extra-virgin olive oil and cover tightly. Place in a cool, dark spot and allow to age for 3 to 4 weeks. Use the lavender infused oil as a daily scalp massage. Apply and leave on overnight. In the morning, wash hair with a gentle organic shampoo and style as usual.
A daily rinse of lavender water (bring water to a boil, add a few sprigs of lavender, reduce to simmer for 20 minutes, then cool) will impart a delightful fragrance and shine to hair. Apply lavender as a daily rinse after shampooing.
Burdock
Burdock (Arctium Lappa) root oil, also known as Bur oil is one of the most important herbs used to restore hair. Burdock promotes healthy hair by relieving scalp irritations and improving blood circulation to the hair follicle. Burdock root oil supplies natural phytosterols and important essential fatty acids to hair roots, and has been traditionally used to reduce and reverse hair thinning. It is a key ingredient in many hair restoration treatments.
Saw Palmetto
Saw Palmetto (Serenoa repens) has been used for centuries as both a food staple and as a healing medicinal herb. The herb produces a dark red berry which is dried and then pulverized into a fine powder. Saw palmetto is available in several forms including ointments, capsules, tinctures and teas. Recent scientific studies have shown that Saw Palmetto may have beneficial effects for those suffering from benign prostatic hyperplasia (BPH); male pattern baldness and other conditions associated with excess DHT (male hormone) production.
Stinging Nettle
Stinging Nettle (Urtica Diocia), found growing naturalized across America, blocks the conversion of testosterone into DHT. Excessive DHT contributes to hair loss in both men and women. Stinging nettle can be purchased in either pill or capsule form and is said to be more effective when used in combination with saw palmetto. Nettle can be harvested in the wild (use gloves as the leaves are covered with tiny hairs that cause a stinging sensation upon contact with human skin). The fresh leaves can be submersed in olive oil in a glass jar. Seal and place in a cool, dark spot for 2 to 3 weeks. Apply the oil in an invigorating scalp massage. Stinging nettle essential oil is frequently an ingredient in organic shampoos and conditioners.
Rosemary
Used for centuries in cultures worldwide to promote hair growth and delay the onset of gray hair, Rosemary oil stimulates blood circulation of the scalp. A refreshing daily rinse of rosemary leaves simmered in water retains hair color. The rinse is most effective on dark hair. A few drops of rosemary oil can be added to olive oil and used as a scalp massage oil.