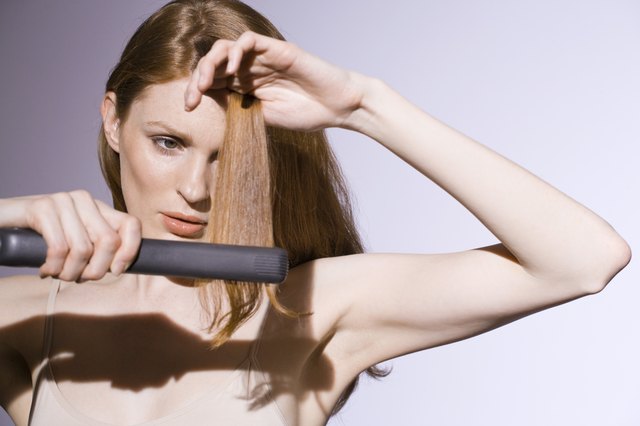 Jupiterimages/Pixland/Getty Images
If you style your hair at home using curling or straightening irons, you may be suffering the consequences from their high heat with burned, damaged, frizzy and lifeless hair. According to The American Academy of Dermatology, the high heat from styling irons not only damages the hair by stripping it of its natural oils, but it also causes it to break and fall out. Fortunately, there are steps you can take that will help restore your burned hair's natural health and luster.
Alternatives
Take a break from high-heat hairstyling irons. Try other styling methods that won't cause damage to your hair. For straight hair, consider getting it naturally relaxed so it can air-dry straight. You can also apply a hair-straightening serum and wrap your hair around your head using large clips. For curly hairstyles, wrap your hair around sponge rollers overnight or set your hair in braids and allow it to air-dry.
Treatment
Shampoo your hair with a moisturizing shampoo designed for dry and damaged hair. Purchase a shampoo with natural ingredients known for their moisturizing properties, such as aloe vera and shea butter.
Don't shampoo your hair every day, since constant shampooing can wash away what's left of your hair's protective oils and further dry out your hair. Instead, simply wet your hair and apply a leave-in moisturizing conditioner.
Use a deep-conditioning treatment on your burned hair at least once each week. Deep-conditioning hair treatments can be purchased in single-treatment packets, or you can make your own using herbs and essential oils.
Whisk together 1 egg, 1 tbsp honey and 2 tsp lemon juice in a pot; stir until the ingredients become warm. Allow the mixture to cool; add 3 drops lavender essential oil and 1/4 cup safflower oil. Massage into your hair and leave on for 15 minutes. Shampoo as usual; apply a leave-in hair conditioner.
Try a hot oil treatment to replenish moisture to your burned hair. Add 3 drops chamomile essential oil, 3 drops rosemary essential oil and 1/4 cup almond oil to a pot and warm slowly. Wet your hair, squeezing out the excess water, and apply the oil evenly throughout your hair. Cover your hair with a plastic bag or shower cap for 30 minutes, and then shampoo out.
Massage pure shea butter into your hair before going to sleep for an overnight hair treatment.