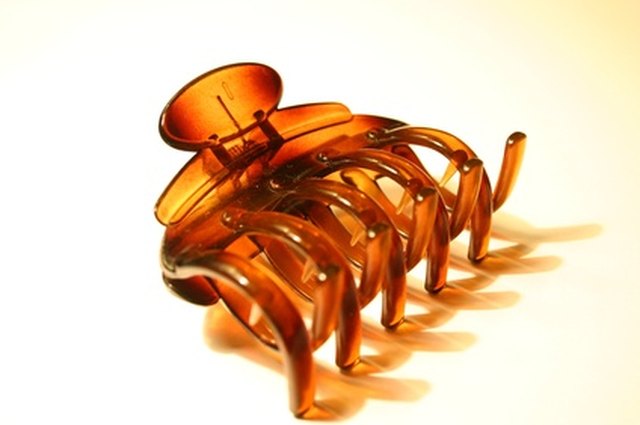 The right hair accessory can change your entire look. Hair claw clips, which have "teeth" or "claws" that grip hair, are easy to use and relatively inexpensive. Claw clips come in various sizes, colors and styles, making them a versatile accessory for everyday use. You can use a claw clip for a casual look when running errands, dress it up for a clean, professional look, or try a bejeweled claw for an elegant evening style.
The Professional Look
The hair claw clip is ideal for women on-the-go since it's quick and easy to use, as well as functional. This accessory can instantly make you look polished and put together, even if you only have a few minutes to spare. To create this professional look, brush your hair and apply a shine-enhancing serum throughout. This will keep your hair smooth and frizz-free. Next, create a low chignon at your nape by wrapping your hair into a bun. Use a small, simple hair claw to secure the ends of your hair, atop the bun. Use bobby pins to hide any flyaways. You can also try out another professional style, which works well with medium-length styles. This half-up, half-down style is perfect for a more casual office setting or a "Friday" look. Simply gather your face-framing layers and pull them back to your crown. Secure with a small hair claw, leaving the rest of your hair down.
The Elegant Updo
A bejeweled hair claw can instantly create an elegant updo, perfect for any special occasion. A hair claw is also functional and easy; it keeps your hair up, without any need for bobby pins. To create this look, curl 1-inch sections of hair with a curling iron. Spritz with hairspray to set in the style. Leaving a couple face-framing tendrils, gather your hair at your nape and twist upward. Secure with a large jeweled hair claw. You can leave the ends of your hair curled atop your head for a more romantic look, or fold loose ends into the hair claw for a more polished style.
The Flirty, Youthful Look
As seen on young celebrities, this easy hairstyle uses small or mini hair claws to create a flirty, bohemian-inspired look. This looks great on all hair lengths and textures. You can try this with straight or curly hair. To replicate this look, smooth your hair with a shine-enhancing serum. Take a 1-inch section of hair from either side of your part and twist about a couple inches past your ear. Secure the twist in place with a mini hair claw. You can also try twisting both sides of your part for a sweeter look. Use a mini hair claw that is the natural color of your hair, keeping the look subdued and simple.