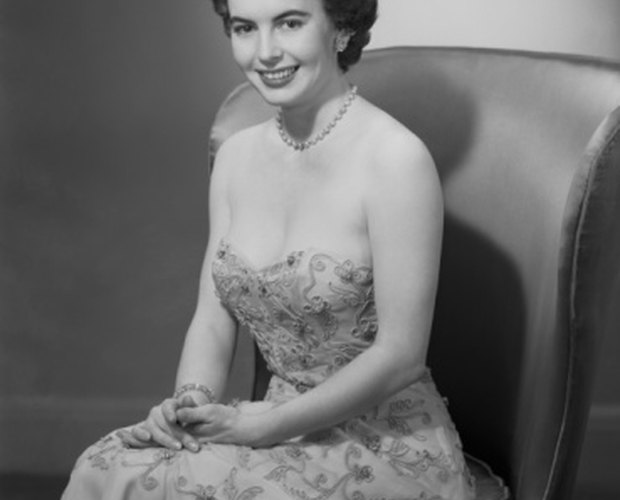 George Marks/Retrofile/Getty Images
Bring back the look of the glamorous '50s through your hairstyle. Women of the 1950s radiated chic and elegance through their personal style and appearance. Their hair was was coiffed to perfection regardless of whether women were attending a party or simply doing housework, and the 50's beauty parlor was quite the place to be. Recreate the look and feel of those times by giving yourself a '50s hairstyle makeover.
Pin Curls
Pin hair up in a slew of tightly wound curls with the pin curl look. To recreate the look, simply wash your hair the night before and dry it until it feels damp. Separate hair into four different sections, and roll hair up with a sponge roller or use end paper to create your own curl. Pin the curl with a bobby pin or double prong clip to secure. In the morning, remove the paper or curlers and use your fingers to style your hair. Spray them with a light hairspray to hold them in place.
Ponytail
The simplest '50s hairstyle to recreate is the ponytail. Still in style today, the ponytail was held back with rubber bands during the '50s period. You can create a modern version of the '50s classic by brushing your hair to remove the tangles, then pulling it back to secure it just over your neck. Apply pomade to your hands and run them over the sides of your head to flatten any unwanted stray hairs.
French Pleat
Wrap your hair up into an elegant and chic up do with the '50s French pleat. To recreate the hairdo, which is similar to today's modern bun, simply brush hair to remove tangles, then pull it into a high ponytail at the crown of your head. Slick hair back with a pomade, or leave it slightly loose from the scalp. Twist the ponytail around until it starts to pull downward towards the crown of the head. Once the hair is twisted all the way down, secure it with bobby pins tightly, and spray with a medium-hold hairspray.
Bouffant
The bouffant is the quintessential hairstyle of the '50s. This style works best on women with bob length to shoulder length hair. The hairstyle consists of a mass of curls on top of the head teased high, then smoothed over. Recreate the look by setting your hair with pin curls the night before. In the morning, undo the curls and comb the back of the hair upward to the crown of the head. Pin the hair with double prong clips or bobby pins. Move to the sides of the hair and tease the roots of the curls. Longer side hair will have to be pinned up and down, similar to the back, so it stays rooted to the sides and not hanging over the ears. The front curls will be gently back-teased and combed to give height to the front. Secure the look with medium-hold hairspray.