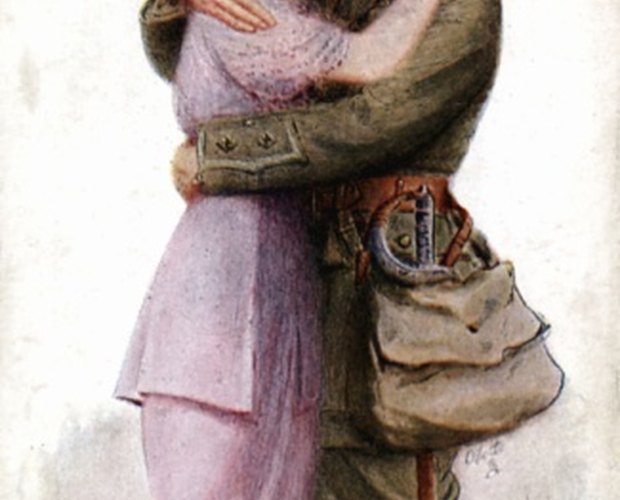 Photos.com/Photos.com/Getty Images
A look at Mary Pickford and Lilian Gish in silent films from the first decade of the 20th century shows the bouncy girlish styles in vogue. Floppy curls and cupid makeup made them look childish and innocent. World War I halted the fairy tale. Hair dressing was by necessity quick and simpler than the romantic coifs of happier times. The objective was to get it out of the way by piling it up or cropping it off. Busy women ranged further from home in a mobile age and the speed of a bicycle or auto was rough on an elaborate do.
Long and Piled Up
The war years found women parting the hair in the middle of the head and piling it up low on the back of the head. They let it cover their ears and pinned it with heavy pins or let combs do the work. Off-center parting with a low loose bun was ubiquitous. Small curls were sometimes added at the forehead or around the temples. Another style was to part it on the top and at the middle of the back of the head, pull two ponytails to the sides over the ears and wrap them in two buns covering the ears.
Early Bobs
The bob, one of the first short haircuts worn by women, is thought of as a 1920s style but first appeared during the war years. It fell just below the ears and was parted on the side. The style was not layered and looked like long hair was simply chopped away below the ears. There was sometimes a shorter bang pushed to one side and sometimes ringlets were set tightly around the face and finger-waves everywhere else.
Bandeaux
The style of the 1915-1918 period had a Mediterranean look. With the low, loose buns women resembled depictions of ancient Greeks. A bandeau was a natural accessory to add to both dress up and contain the hair-do. The bandeau, practical or decorative, was also used by women who had chosen to have their hair bobbed. The accessory was sometimes worn just at the hairline. Bandeaus were also sometimes elaborate, with bead work and matching combs, or fashioned of fine embellished fabrics and ribbons. More casual examples were simple bands of linen or cotton.
Men's Styles
Men wore short hair, parted high on the side with short sideburns and short around the ears. They plastered it down with pomade. Some wore the short style combed straight back from the forehead. Facial hair was not sported by World War I era men. Hairstyles and grooming kept an almost military neatness.