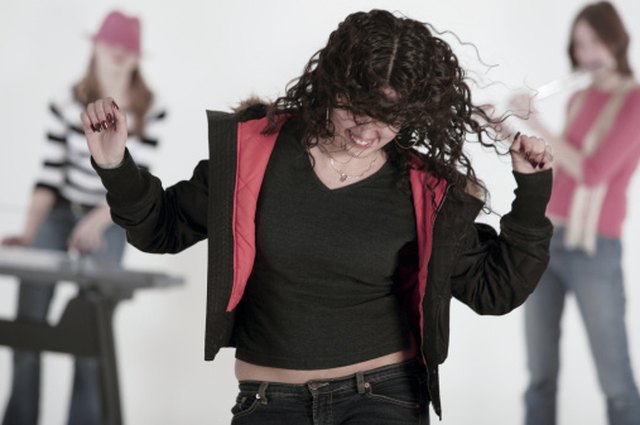 Comstock/Comstock/Getty Images
For girls looking to wear the latest in rocker-chick styles in the 1980s, there were plenty of role models to emulate. Rocker trendsetters like Pat Benatar, Madonna and Cyndi Lauper led the way in style in a decade that saw some wild fashion trends. The rocker style for girls in the '80s was part princess and part biker. Videos on MTV brought the newest styles into girls' homes and the trends swept the nation.
Leather and Lace
Girls in the 1980s loved to mix feminine touches with hardcore fabrics to achieve a rocker look that was distinctly female. Girls wore cropped, black leather jackets over strapless, even frilly dresses that came to the knee or above. This look was worn well by Cyndi Lauper, who brought frilly, layered skirts into vogue that were practically tutus. To offset a leather or denim jacket, girls also wore lace shirts over an undershirt, along with lace gloves and headbands. Any mixture of the masculine and feminine worked well with this trend.
Torn, Torn, Torn
Imagine what a girl's parents thought when she brought home a brand new t-shirt or sweatshirt and then cut the neck off of it, so it would hang off one shoulder. This trend came into play with the movie "Flashdance," as well as Pat Benatar's hit video for "Love Is A Battlefield," in which she wears a tattered and torn outfit. Soon, designers throughout America adopted this homemade style and torn clothing was everywhere. Sweaters and shirts hung low off one shoulder with a tank top underneath. The torn style moved next to pants, and the coolest rocker girls, and boys, were soon wearing jeans that were torn all over.
Colors, Patterns and Logos
As the 1980s wore on, bright-colored clothing became all the rage. And even though black is a rocker girl's constant, even she got in on the day-glo act. Neon green, orange and pink were commonly used in dresses and over-sized shirts. And no rock girl forgot about her hair when it came to color. Temporary spray dyes created bright colors that could change often. Patterns such as paisley and paint-splatters were worn on skirts, shirts and jackets. Rock girls also wore large logos or slogans on shirts and other items, like the "Frankie Says Relax" t-shirt made popular by the band Frankie Goes To Hollywood.
Accessories - Too Much Is Never Enough
When it came to accessorizing in the '80s, the rock-girl style called for as many as possible. Madonna's style in the mid-'80s is an example of this and had a huge influence on girls. Banana clips and headbands were worn in the hair. Long necklaces, often several of them, were worn with giant crosses or emblems on them. Costume jewelry was important to this look, including big earrings and many, many bangle bracelets. Other rocker girl accessories included plastic, colored sunglasses, fingerless gloves, bright tights and leg warmers.