What's not to love about rosewater? As a fragrance, nothing else smells so authentically and purely rosy, and it doubles as a perfect face mist that hydrates, soothes, and brightens skin as well as any fancy French-pharmacy elixir. There are even food-grade varieties to add a delicate, aromatic dimension to recipes, from pastries and cakes to citrus salad dressings.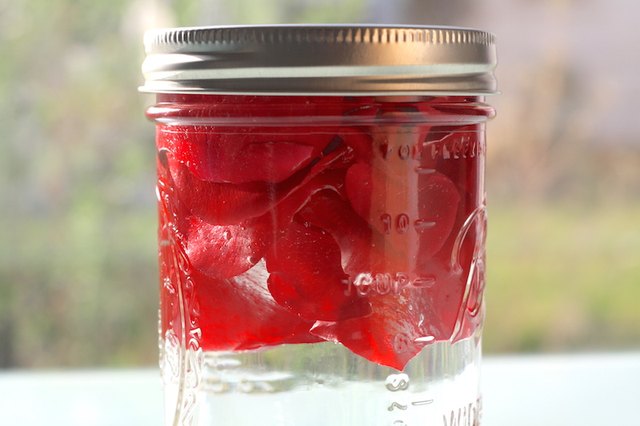 Rosewater is pretty accessible these days at most markets. But if you happen to have rosebushes in bloom in the yard or a fresh bouquet decorating a tabletop, you can make your own very, very easily without even leaving the house. Just add water and a little sunshine.
Little tip: Only use organic roses, because you don't want any pesticides on your skin or in your homemade macarons, do you?
You'll Need:
Handful of rose petal
Mason jar
Distilled or spring water
Spray bottle
Vegetable glycerin (optional)
Instructions
Sprinkle a handful of rose petals into a mason jar.
Cover with distilled water. Put the lid on the mason jar, then place it in direct sunlight for 2 days.
To use the rosewater as a face mist, transfer it to a spray bottle and discard the petals (put them in the compost, if possible).
For a hydration boost, add a few drops vegetable glycerin, which attracts moisture from the air.
Skip the glycerin if using the rosewater in cooking. In this case, leave it in the mason jar, but remove the petals.
Store in the refrigerator and use within one week.

Share this tutorial with your friends and tag us on Instagram if you make it! @leaftv