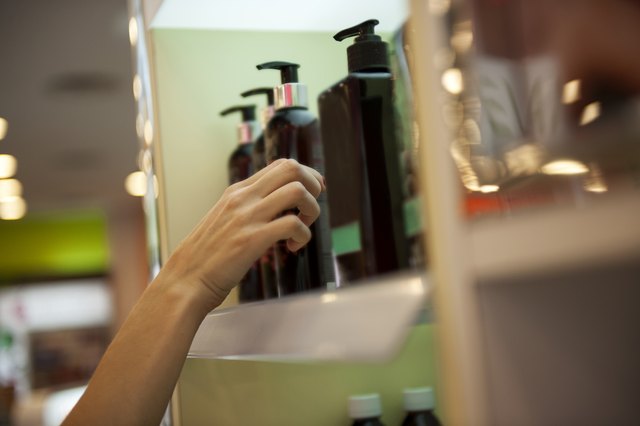 Originally used as stretch mark creams, products such as StriVectin, Everderm-CL and Dermectin are now being used to reduce the appearance of wrinkles. Ingredients in the creams help improve collagen and elastin within the skin, plumping up fine lines and reducing noticeable stretch marks. In both stretch marks and aging, collagen is broken down, resulting in thinner skin.
Ingredients
StriVectin includes a Striadril complex to rebuild collagen and elastin in areas with stretch marks and fine lines or wrinkles, plus palmitoyl oligopeptide to heal the skin and increase the rate of growth for collagen and elastin. In addition, a study reported on in Dermatologic Surgery in March of 2002 showed that a form of Vitamin C within the product also improved skin repair of photo damage. StriVectin also contains an alpha-hydroxy acid, retinyl palmitate, which stimulates new skin cells to reduce the appearance of fine lines and wrinkles.
Ingredients found in Everderm-CL include extract of the herb Siegesbeckia orientalis to reduce inflammation and to improve skin healing and collagen rejuvenation. During clinical studies of Everderm-CL, wrinkles were reduced by 52 percent and skin smoothness increased by approximately 14 percent. Additional ingredients include Emblica and Biopeptide-CL to increase skin hydration and collagen production.
Dermectin is an anti-aging product that repairs stretch marks and reduces wrinkles. Clinical results from those who used the cream on fine lines or wrinkles experienced a decrease in facial lines, rough skin and depth of wrinkles. Dermectin uses non-acidic sources of glycosaminoglycans and polysaccharides to moisturize and firm the skin and to promote cell rejuvenation.
Moisturizing
Aside from the formula to boost collagen and elastin in the skin, StriVectin contains shea and coco butter, along with natural moisturizing factors such as urea. It also contains exfoliants to remove dead skin cells so new ones can emerge. This stretch mark cream repairs damage, and encourages new skin cell growth to remove the appearance of stretch marks, fine lines and wrinkles.
Dermectin contains a peptide-complex, tetrapeptide-3, to reduce wrinkles. The peptide formula was shown through clinical studies to soften the skin, reduce fine lines and wrinkles and add collagen back into the facial skin.
Everderm-CL provides moisture through Emblica, an extract from the Phyllanthus emblica herb. The extract contains antioxidants that improve skin hydration and increase collagen levels.
How to Use
Clean the face before use, and dry thoroughly. Apply StriVectin to the entire face three times each day, and use only a small amount each time. Because the cream is concentrated, you can use less and should not use more than three times a day. Massage the cream into areas with fine lines or wrinkles.
To use Dermectin and Everderm-CL, apply the cream directly onto fine lines or wrinkles two to three times a day for four to six weeks. Do not apply more than three times in each 24-hour period. Massage the cream into areas with lines until it is fully absorbed.
References