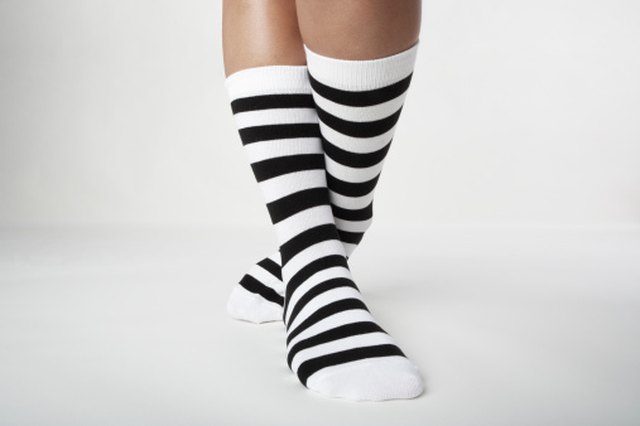 ballyscanlon/Digital Vision/Getty Images
Feet can get a bit dry and flaky sometimes, and not everybody can afford to have a regular pedicure. Moisturizing gel socks are an easy way to avoid the fuss of having to moisturize your feet. If you use a foot cream, you usually have to wait for it to dry before putting your socks on otherwise the cream will absorb into the cotton socks and won't moisturize your feet. The moisturizing gel sock keeps the gel sandwiched between your skin and the waterproof lining of the sock, so that the gel slowly absorbs into your feet while you sleep.
Find an old pair of socks and a section of waterproof cloth. You can also use an old waterproof mackintosh, which you will be able to put into the washing machine. If you don't have an old mackintosh, buy some waterproof material from a haberdashery to suit your needs instead. Ask the assistant for a square yard of fabric, and check that the material is machine washable, otherwise you will have to wash your gel socks by hand.
Measure the waterproof lining (old mackintosh or haberdashery material). Place your foot lengthways over the back of the mac or over the material purchased, and draw an outline of your foot reaching up to the ankle. Draw another outline 2 inches around this shape. Cut the lining around the outer outline and place this cutout over the lining again. Trace the cutout three times, until you have four identical foot-shaped pieces of material. Take two and sew together around the edges. Check that you can fit your foot inside.
Using the scissors, remove any excess material around the collar. Pinch the material at the end of the sock, which covers the toes, between your thumb and forefinger and away from your toes. You can then sew the inner waterproof lining to the socks so that it is attached to the tips of the sock. Repeat for the heel and collar. Then repeat for the other foot. This makes it easier for you to apply and remove the sock by holding the lining steady within the sock.
Try your gel sock out. Cover your foot in your chosen foot cream or gel, apply your new gel sock and leave the product to sink in overnight. Remove in the morning, and place the sock in the washing machine on a low temperature to clean.