Ah, cosmetologists: the fairy godmothers of the modern world. Walk into a salon feeling tired, blotchy and sloppy and walk out a few hours later feeling like a supermodel, all with the help of pros who are experts in their fields. In the market for some help with your appearance and self-esteem? Turn to a cosmetology expert. As long as she's trained, licensed and working with clean, safe tools, you should be able to relax in her capable hands.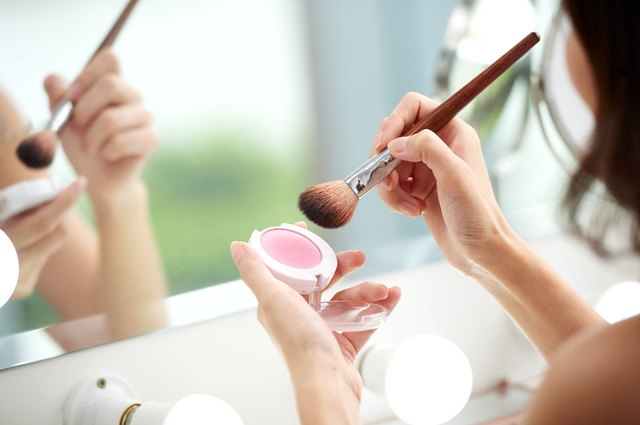 Understanding Estheticians
If other cosmetology professionals are artists, estheticians are the ones who prepare the canvas. These pros, who typically work in salons and spas, cleanse and treat the skin. Estheticians give facials which generally include steps like extracting blackheads, exfoliating and thoroughly cleaning the skin, applying moisturizers and massaging the face and neck. Some estheticians are trained to administer chemical peels, laser treatments, body wraps and other treatments that smooth and beautify a client's skin, both on the face and all over the body. Hair removal is also the job of an esthetician, who may use traditional wax, threading or laser treatments.
Understanding Nail Technicians
Anyone who has ever enjoyed a relaxing visit to the pedicure massage chair has met a nail technician. This title is generally used interchangeably with manicurist. Nail techs provide all grooming services to a client's fingernails and toenails. They do everything from shaping the nails to applying gel manicures. Nail technicians who give pedicures also exfoliate the soles of the feet and massage the lower legs. If it involves making your hands and feet look and feel great, a licensed nail tech is qualified to do it.
Understanding Hairstylists
A skilled hairstylist can transform a tangled mop or limp tresses into a sleek updo, with the help of dozens of bobby pins and some styling tools. Hairstylists do a lot more than that, though. Every session typically starts with a consultation so the client can explain what she's looking for. Depending on the salon and the client, a stylist may then wash the hair, cut it, color it, dry it and style it. (In some salons, a dedicated colorist does all the work related to dyeing a client's hair.) Hairstylists may also do treatments like perming and putting in extensions.
Understanding Barbers
All hairstylists should be trained to cut and style both men's and women's hair, but barbers specialize in working with men. Most barbers offer a short list of basic services, including simple haircuts, beard and mustache trimming and neck shaving. Barbers typically don't do hairstyling, dyeing and other treatments, although some – especially those working in major cities – do offer hair coloring services.
Understanding Makeup Artists
Makeup artists do just what their job title suggests: they apply makeup, typically for clients who are preparing for major events like weddings and photo shoots. Sometimes, estheticians or hairstylists also do makeup artistry. A makeup artist should be trained to work with clients of all ages and ethnicities so she can customize each client's look.